Groups join forces to raise awareness, educate, and provide support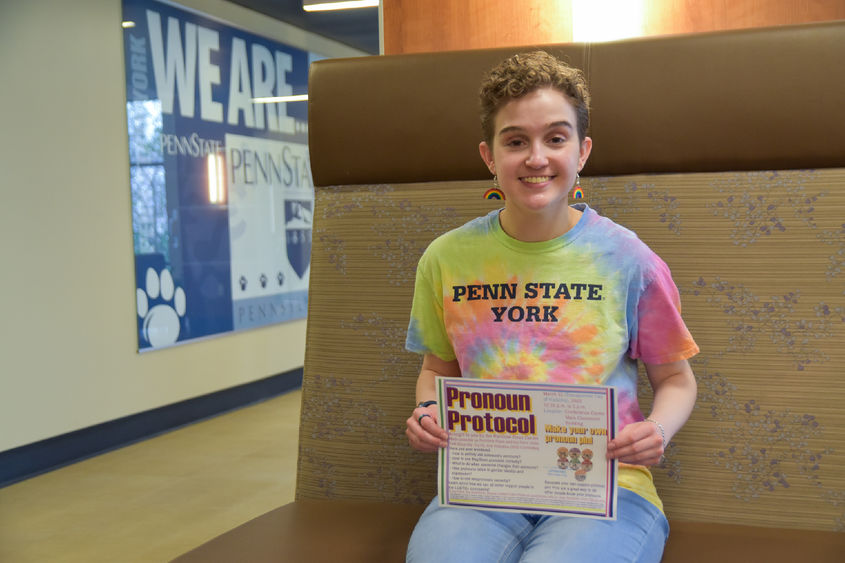 Catie Noble (she/they), a senior majoring in information sciences and technology (IST) at Penn State York, wants people to learn more about pronouns. It is personal for her. The president of Rainbow Paws, a student group on campus that supports equality and respect among all sexualities, Noble thought it was important to provide information that would help people understand the LGBTQ+ community better, and Pronoun Protocol, set 12:15 p.m. March 31, was born.
The program, featuring Tesla Taliaferro, president of the Rainbow Rose Center in York, Pennsylvania, is free and open to the public. Pronoun Protocols is sponsored by Rainbow Paws and Penn State York Diversity, Equity, and Inclusion (DEI) Committee. The program takes place in the conference center of the Main Classroom Building (Main). The selection of the date March 31 was purposeful; it is Transgender Day of Visibility.
For Noble, she realized during a discussion about gender and pronouns at a Rainbow Paws meeting last year, that even those most supportive of the LGBTQ+ community, allies, did not have a true understanding of pronouns and how to use them.
"In my LGBTQ+ corner of the web and social media, people have been talking about pronouns for years now. For example, I first learned about neopronouns (such as ze/hir/hirs, xe/xem/xyr, and ey/em/eir) almost 10 years ago. Over the years, I have learned more about pronouns," said Noble. "I guess I had just assumed that most allies were learning this information right along with me," she said. She discovered that what she assumed was not the case.
"Even some of the best allies still were not receiving the message. I knew then that we needed to break this important information out of its online bubble - that's when I first had the idea for Pronoun Protocol," she said.
The goals for Pronoun Protocol are to educate students, faculty, staff, and the outside community on how to be better allies to the LGBTQ+ community, raise awareness of LGBTQ+ issues, and create a safer, more comfortable space for transgender, nonbinary, and gender nonconforming people.
The target audience for this program is mainly allies of the transgender and nonbinary communities who want to do more as allies, but the public can gain new knowledge from the event.
The presentation will start at a basic level of understanding, and Taliaferro, will cover a variety of topics so that even those people who know nothing about gender and pronouns will be able to learn. Attendees can hope to learn how to ask pronouns politely and state their own; how to use they/them pronouns, neopronouns, and multiple sets of pronouns; how gender, gender identity, and gender expression relate to pronouns; what to do if you accidentally misgender someone and how to make sure it doesn't happen again; and how to better support trans, nonbinary, and gender non-conforming people.
"While the primary focus of the event is education, we also want to make sure it is fun and enjoyable, as these topics are new to many people and sometimes difficult," said Noble.
At the event, there will be a make-your-own pronoun pin station and attendees are encouraged to get creative. Free pride merchandise and to-go Skittles will also be available.
"It means a lot to transgender and nonbinary people when you get our pronouns right. It makes spaces more comfortable, allows us to be ourselves, and shows that you care. Learning new things can be uncomfortable and even scary, but it is completely worth it to learn and grow so that you don't accidentally harm someone you care about,"  Noble said.
In addition to being president of Rainbow Paws, Noble is a candidate in the Graham Fellows Program for Entrepreneurial Leadership (Graham Fellows Program), SCROUNGE Trustee, and the historian for the Penn State York Lion Ambassadors.
Noble is quick to note that no one expects allies to get it right every single time, especially when they are first learning about pronouns and the LGBTQ+ community.
"All people need to do is learn, ask questions, and keep an open mind," she said.