With her daughter as motivation, Lesly Salazar excels both in and out of the classroom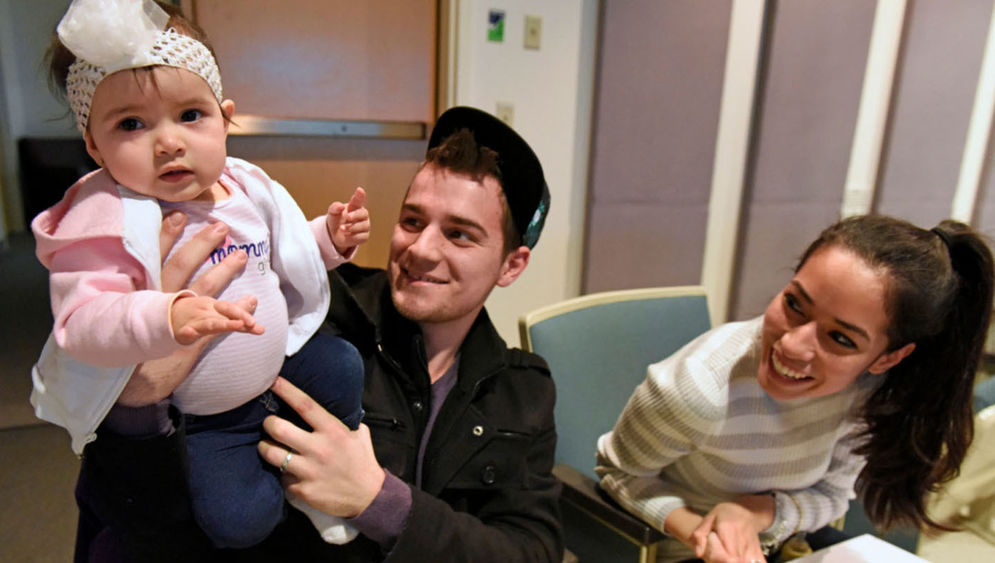 (Editor's Note: This is the first in a series of stories about College of Communications students completing summer internships.)
It's not easy to slow down Lesly Salazar. She's always busy, always moving toward her goals, and this summer that again includes an internship with WTTG-TV (Fox 5) in Washington, D.C.
This is the fourth consecutive summer Salazar, a senior in the College of Communications from Dumfries, Virginia, is completing an internship with the TV station in the nation's capital. She initially secured the opportunity through the Emma Bowen Foundation the summer after she graduated from Potomac Senior High School.
"I got the call on the morning I was graduating, on a Monday," she said. She had the option to start the internship the next day but waited a week before beginning. She has been with the station every summer since. "My first summer I was asking questions about everything, trying to find out all I could."
She worked eight weeks that first summer, 14 weeks the next summer and eight weeks in 2015. This year she plans to work 11 weeks. The foundation requires interns to complete a minimum of eight consecutive weeks each of the four years they participate in the program.
Along with guaranteed placement for four years, the foundation also provides financial support for interns.
"At the end of the summer whatever gross amount I make, the station matches that and sends funds to the foundation so I can access that when necessary. Last fall I would not have been about to pay my tuition without the program," she said. "It's just an amazing program."
Salazar, who started her career at Penn State York, has been almost amazing herself.
She has thrived in the classroom while completing internships and getting involved with organizations on campus. She has also held down a part-time job and capably balanced becoming a mom and raising a child, 13-month-old Elena, with fiancée Pete Pitilis Jr., an architectural engineering major at Penn State.
They found out Salazar was pregnant just days before her sophomore year and spent no time worrying about the impact — other than the positives.
"The timeline couldn't have been any more perfect, actually, even if it had been planned. We found out just before classes began in the fall — classes started Monday, we found out Friday of my sophomore, his junior, year," Salazar said. "She was born a week before finals during the spring semester. It did feel overwhelming at first, but we both come from big families and know the value of having children in our lives, so it was easy to move on from being scared to being excited."
The responsibility of parenthood only made the motivational and organizational fires burn a bit more, too.
"We both have these huge aspirations and goals," Salazar said. "Even though having a baby in the middle of college might stop other people, we knew it would be a motivation for us."
So, this summer Salazar is back at the Fox owned-and-operated station focusing on multimedia journalism and online reporting. Through her summers at the station and her classroom experiences in the College of Communications, she has developed an appreciation for digital media.
In general, she understands the responsibility of station managers to the financial bottom line. At the same time, those in newsrooms across the country often focus foremost on serving viewers. She believes the medium is changing and that stations can find an approach that turns a profit and serves viewers online.
She started her internship May 31 and hopes to have the opportunity to test some of her ideas by conducting online reports throughout summer. "Plus, because it's my last summer in the program, I feel the need to do the best job possible," she said.
Once the internship ends (her summer schedule also includes nine online credits), Salazar will return to Penn State in the fall for her final semester as a student. She's a bit ahead of schedule, eyeing a December graduation while her fiancée will complete his degree requirements in 2018. "After I had Elena I realized I didn't have to throw away everything I had been planning. If anything it gave me a reason to finish things better and quicker, which is why I'm graduating early," Salazar said.
After graduation, Salazar hopes to find on-air (or online) opportunities — making the most of her planned journalism degree. She believes she's prepared for success, thanks to her combination of classroom and internship experience.
"I feel at an advantage," she said. "I have these steady years with the internship, getting some familiarity with the business before my first class, and I have also interned during semester breaks. So, there's that experience plus all that I've learned in the classroom. It's a great combination."