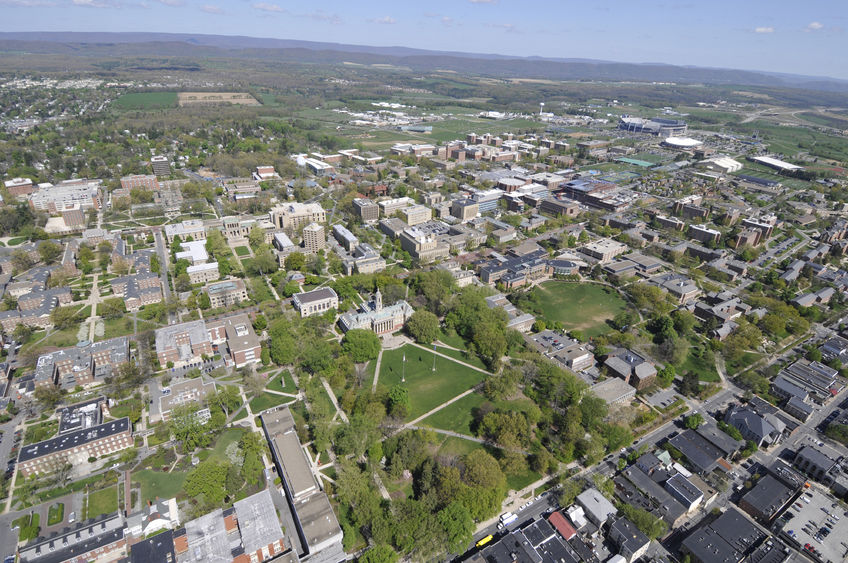 UNIVERSITY PARK, Pa. — Educators and instructional and learning designers at Penn State have been key elements of the pivot to remote instruction as the University works to overcome the challenges of the COVID-19 pandemic. In just days and weeks over the last several months, these instructional design communities have worked tirelessly and collaboratively to find and share resources in order to get courses ready in tight timelines.
Just at Penn State York alone there were 30 courses that faculty needed help to prepare for the first summer session, said Suzanne Shaffer, an instructional designer at the campus. This came on the heels of moving all instruction to remote learning for the second part of the spring semester.
But Shaffer said that the Penn State community behind the scenes has pooled resources in a way not seen before, and shared time, expertise and connections to help colleagues.
"It was sort of exciting to be a part of that, to do what you could and work hard, and put your training to good use, and just sort of be in the moment and be able to respond in a way that was helpful," she said.
Shaffer is set to retire in April 2021 and has worked at Penn State for the last 18 years, watching as online learning grew from a small part of universities' efforts to one of prominence. Now in her final year she, like her colleagues and the rest of the University, was thrust into a shakeup that required close collaboration with once-disparate units that could prioritize in order to make resources available to share.
"I have been thinking a lot these days about what everything has meant," she said, reflecting on her career. "What has this work been? What has my time meant? Then this thing happened. It puts a different spin on 'What has your work meant at Penn State?' And now, to have this opportunity at the end of your career, to really have a challenge."
The Clearinghouse Model
"I've always thought about the work that we do as a helping profession," Shaffer said of instructional design. "We are there to support the teaching needs of our faculty."
But it was Shaffer who found herself asking for help as she had just weeks to get 30 courses online for faculty, many of whom are part-time.
"Usually we're the ones asking that question of faculty: 'What do you need?'" said Shaffer.
The Learning Design Clearinghouse Model at Penn State was developed to match designers with faculty who are looking for help in preparing courses and are in need with resources, guidance and content. It also asks instructional designers to pitch in their time where they could. The project is headed by Chris Millet, director of learning design at Penn State World Campus; and Gary Chinn, assistant dean for digital learning in the College of Arts and Architecture.
"The clearinghouse was created as a way to make sure any faculty who need this type of help are able to find it," Millet said. "Because the clearinghouse had already been articulated, and we have such an excellent, large and well-networked learning design community, we were able to put this solution into place and quickly redirect support toward areas of greatest need. In was truly heartwarming to see how many people stepped up to make this happen."
Like Shaffer at Penn State York, Millet and his team have labored hard since mid-March to leverage the University's "substantial experience in online learning."
"It's been an unending series of very long days, I must say," Millet said of the last several months. "But the way Penn State faculty and staff have come together to solve these very complex problems is a testament to the strength of our institution and it's been the most rewarding experience of my career and a privilege to play a leadership role during this time."
Amy Garbrick is the director of learning design in the College of Information Sciences and Technology, a team that's also been working in high gear since March to support faculty — both within the College of IST and other Penn State units and campuses.
"Due to the quick move to remote synchronous in the spring, we pivoted to assisting faculty in delivering their courses remotely," Garbrick said. "During this uncertain time, our team has been flexible and adaptive, which has helped us support faculty and students."
As the pandemic caused the physical closure of the University, Garbrick said her team held Zoom sessions for their college's faculty on how to engage students and on the use of tools like Zoom and its many uses, as well as other interactive educational technologies.
"We discussed pedagogy, technical solutions and had faculty expert panels where faculty shared with other faculty," she said. "We shared recordings of those sessions with those who could not attend. We also conducted many one-on-one consulting sessions with faculty to discuss their specific questions and concerns in their courses. We tested technical solutions and piloted tools."
In addition to this hard work in supporting their college's faculty, many on Garbrick's team were among those who agreed to participate in the Learning Design Clearinghouse.
Garbrick and her team helped with math courses at Penn State York and a few other campuses. Many of the courses were part of the Pathway to Success Summer Start program (PaSSS), which helps incoming first-year students adapt to higher education. Learning designers aided faculty in a number of ways, including consulting on pedagogy, creating course schedules, curating content from other course spaces, solving technical issues, addressing accessibility and suggesting other technical solutions.
Garbrick credited an "incredible" team of people within the College of IST in helping to bring courses online and support faculty, including the college's Office of Teaching, Learning, and Assessment led by Lisa Lenze. She also said leadership has been supportive of their work, especially dean Andrew Sears and associate dean Dave Fusco.
"I am very proud of how everyone in our college has been able to help each other and work together," Garbrick said. "Larger than just our college, we have tightly connected community of people who work in the learning design space at Penn State, who actively collaborate to solve common issues and share resources with each other. I feel those connections and that community has been key to success at Penn State. We all want to support faculty and students in teaching and learning."
Faculty share ideas and content
While some instructors needed help constructing their courses in virtual space, others were in need of content and took to reaching out to colleagues and sharing what they were able to do at home, their internet resources or what they had in their personal archives.
Kip Trout has been a physics lecturer at Penn State York since 1990, save for a break of a few years. Over spring break this year he, like all of his colleagues at Penn State, was now faced with the abrupt challenge of changing all of his in-person courses to remote courses. Though comfortable with the tools of remote learning, he was in the position that many science educators found themselves in: at the helm of a lab class with little time to recreate lab conditions in a virtual space.
Through Physics Department resources and meetings, Trout said he and his colleagues began seeking and sharing from one another videos, simulations and data to recreate lab experiments for their students.
"It was amazing to see the different things that people were doing," Trout said.
One colleague from Penn State Schuylkill had a set of animations to share. Another from Penn State Mont Alto recorded experiments in his garage and even briefly returned to campus to use resources there. Trout found that he could recreate a simple meter stick experiment at his own home and record himself with his iPhone.
While Trout said it will be good to get back in the classroom, he said he's become comfortable with the process and believes students are still learning at a high level.
"It's been fun. I've been surprised at how enjoyable it's been," he said. "The students are troopers about it. I'm sure it's not as easy as being in the classroom for asking questions. But I think things have gone pretty smoothly and I think students are learning the material."
Penn State plans to remain flexible for coming semester
More than 250 faculty, staff and administrators have been working across 16 different task groups to make the fall semester successful as a part of the "Back to State" plans. On June 14, Penn State announced the fall semester would begin as scheduled on Monday, Aug. 24, but with campus-based residential instruction ending on Friday, Nov. 20, and the remainder of the semester being delivered remotely. These plans were created under the guidance of faculty science and health experts and adhere to the governor's guidelines for reopening education institutions.
The plans call for a highly flexible mix of in-person, remote and hybrid instruction to deliver curriculum, requiring further collaboration between faculty and the learning and instructional design community. This planning process is still ongoing as Penn State faculty and administrators work to determine the best mix of delivery methods to meet the needs of faculty and students, said Yvonne Gaudelius, associate vice president and senior associate dean for Undergraduate Education.
"Our goal during this pandemic has been to maintain Penn State's high standards of teaching and learning while giving people the options and flexibility necessary to remain safe," Gaudelius said. "As we've seen over the past four months, our amazing faculty and staff have stepped up to meet these challenges."
The Penn State Office of Undergraduate Education is the academic administrative unit that provides leadership and coordination for University-wide programs and initiatives in support of undergraduate teaching and learning at Penn State. Learn more about Undergraduate Education at undergrad.psu.edu.