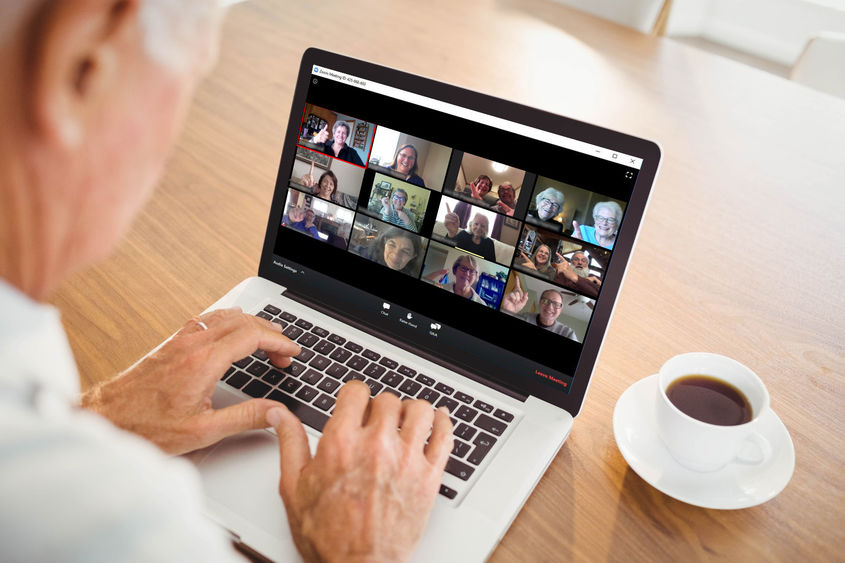 UNIVERSITY PARK, Pa. — The Osher Lifelong Learning Institute (OLLI) at Penn State, University Park and York, is turning necessary COVID-19 restrictions into opportunities online. OLLI at Penn State is a membership organization offering affordable courses, trips and social activities geared toward adults who are 50 years and older. While in-person classes, events and trips are currently on hold, OLLI members and volunteers are exploring other ways to stay connected.
Brynn Rousselin, director for OLLI at Penn State, said when they realized the impact COVID-19 was going to have on their ability to be together for in-person learning and social enrichment, she knew they had to make a shift and try something new to OLLI: an all-online platform.
"As we transitioned to this new model, we focused on three guiding principles: stay in touch with members to keep them informed and engaged; focus on learning by providing prerecorded and live programing and keep members connected with each other to ensure the OLLI community and network continue to thrive," Rousselin said. "Thankfully, our OLLI members hit the ground running! Their love of learning and sense of curiosity was evident as many have joined us on this online adventure. We have a robust summer schedule of online learning and events and hope to reintroduce in-person experiences as soon as we are able."
Candace Davison, assistant director for Education and Outreach for the Radiation Science and Engineering Center at Penn State and instructor for OLLI at Penn State, was one of the first to jump into the virtual solution. She taught two online courses during the spring semester.
"We've offered tours of the Penn State reactor to OLLI members for several years. When I found out on-site classes were cancelled, I suggested that we could do the tour through Zoom," Davison said. "The online class included an introduction to the reactor, its history and how it works — which is part of what we present during the physical visit. I also taught a class about radiation applications in our lives, which I find fascinating because there are so many different things that people don't know or think about."
Carol and Steve Gentry are OLLI members, instructors and sit on the leadership committee. The couple presented an online travelogue of their trip to Iceland and Greenland as part of the spring semester.
"We see presenting the virtual travelogue as an opportunity to connect with OLLI members and give those who might have mobility issues a chance to join in as well," Steve Gentry said. "By using Zoom for classes and committee meetings, we hope to maintain the same educational and social benefits through OLLI as we always have."
Virtual trips to Italy and Hawaii are included in the summer catalog, along with classes such as "Vermeer and His Contemporaries: Dutch Interiors and Their Paintings and the Evolution of Naval Warfare." Classes are a way for OLLI members to learn, but also a bit of an escape. Dana Reed is an OLLI member and volunteer instructor. She said taking classes online has been a wonderful way to take her mind off COVID-19.
"I signed up for two to three classes each week and enjoyed every class I took. It also provided me with an opportunity to see how others were coping with the stay-at-home orders and I got a real sense of camaraderie," Reed said. "I really enjoy the in-person classes as well, but the online courses are so easy to take, the video and audio is so good that the online venue is sometimes better than in person!"
OLLI at Penn State will offer classes and events online for the summer semester which will begin June 15. Registration opens June 1. For more information fill out this online form.