Program featuring Nicholas Kristof on Feb. 18 is free and open to the public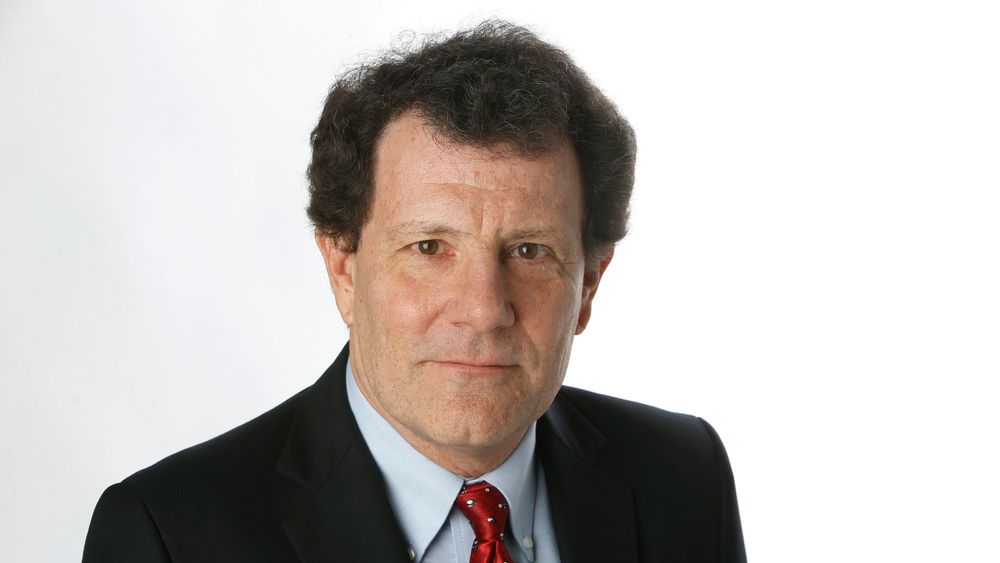 YORK, Pa. -- Two-time Pulitzer-prize winner and New York Times columnist Nicholas Kristof will present "Why Students Should Care About the World – and Change It" at 4 p.m. Tuesday, Feb. 18, in the Pullo Family Performing Arts Center at Penn State York. Kristof has spent his career advocating for human rights. The presentation, sponsored by the Penn State York Honors Program, the Penn State York Student Activity Fee, and Penn State Global Programs, is free and open to the public. High school students from the area also have been invited to attend.
The first 250 attendees will receive a free copy of Kristof's new book, "Tightrope: Americans Reaching for Hope." Following the public presentation, some Penn State York student leaders will have an opportunity to meet with Kristof.
"We are bringing Nicholas Kristof to campus because in our current political climate, it's more important than ever to bring students together and inspire them to create positive change in the world," said Sarah Guillen, associate director of student affairs at Penn State York and one of the coordinators of the event. "He has decades of experience covering global affairs for The New York Times, and his specific insights and lessons learned will be inspiring reminders for those in attendance of the importance of caring and acting to make our world a better place."
Kristof grew up on a sheep and cherry farm near Yamhill, Oregon, and will share his stories from the farm to covering wars and genocide around the world. He invites audiences to wrestle with the ethical dilemmas he faced. Do you help a dissident flee a repressive country, do you lie to a warlord, and should you listen to a president's private conversation with his political adviser that you inadvertently recorded?
Kristof offers specific advice, drawn on his years as a Pulitzer Prize-winning journalist and human rights advocate. His talk provides valuable guidance on whether to start a new organization or join an existing one, how to tell stories and build empathy, and whether to focus on needs at home or those abroad. He argues that although students sometimes perceive the problems of the world as too vast to affect, in fact, it's entirely possible for students to have an impact on the world. He also emphasizes that as students help others, they also enrich themselves.
He also shares his frustrations with what he sees as America's overuse of the military toolbox around the world and underuse of education and women's empowerment toolboxes, and his conviction that women's rights are one of the great challenges worldwide in the 21st century. He will also discuss his experiences and how someone can spend decades covering genocide, sex trafficking, leprosy, war and starvation, and yet emerge feeling positive about humanity and its capacity to do the right thing.
A Phi Beta Kappa from Harvard College, he then studied law at Oxford University on a Rhodes Scholarship, graduating with first class honors. He later studied Arabic in Cairo and Chinese in Taipei. While working in France after high school, he decided to travel and began backpacking around Africa and Asia during his student years, writing articles to cover his expenses. Kristof has lived on four continents, reported on six, and traveled to more than 150 countries, plus all 50 states, every Chinese province, and every main Japanese island. He also is one of the few Americans to be at least a two-time visitor to every member of the "Axis of Evil." During his travels, Kristof has had unpleasant experiences with malaria, mobs and even an African airplane crash.
After joining The New York Times in 1984, initially covering economics, he served as a Times correspondent in Los Angeles, Hong Kong, Beijing and Tokyo. He also covered presidential politics and is the author of the chapter on President George W. Bush in the reference book, "The Presidents." He later was associate managing editor of the Times, responsible for Sunday editions.
In 1990, Kristof and his wife, Sheryl WuDunn, then also a Times journalist, won a Pulitzer Prize for their coverage of China's Tiananmen Square democracy movement. They were the first married couple to win a Pulitzer for journalism. Kristof's second Pulitzer, in 2006, was for commentary on genocide in Darfur, and judges said his writing gave voices to the voiceless in other parts of the world.
He also has won other prizes, including the George Polk Award, the Overseas Press Club Award, the Michael Kelly Award, the Online News Association Award, the American Society of Newspaper Editors Award, the Dayton Literary Peace Prize, the Anne Frank Award, and the Fred Curry Award for Prevention of Armed Conflict. A documentary about him, "Reporter," was executive produced by Ben Affleck and aired on HBO. He has appeared on numerous television programs.