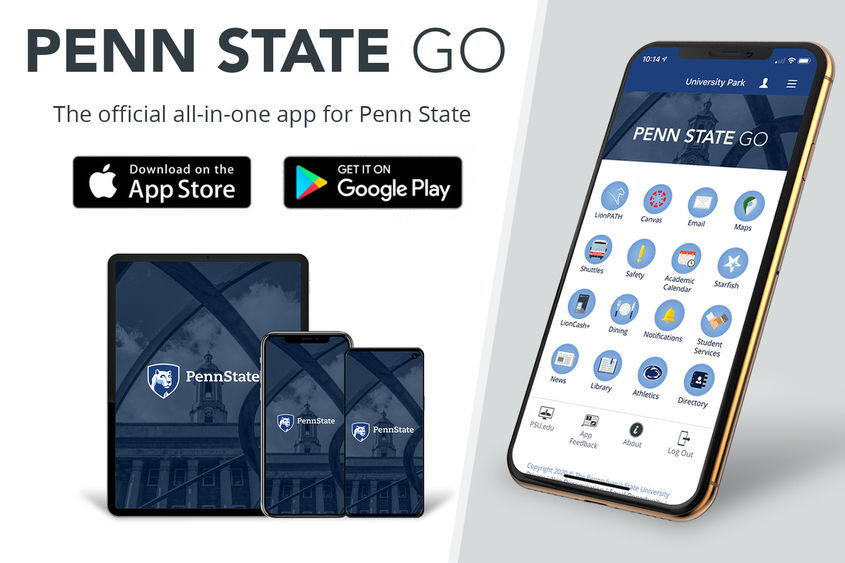 UNIVERSITY PARK, Pa. — Penn State's official all-in-one mobile app, Penn State Go, is available to download in the Google Play Store and Apple App Store. Penn State Go delivers single sign-on access to features including Canvas, Penn State email, shuttle bus tracking, campus maps, grades, class schedules, tuition bills via LionPATH, LionCash+, library services, Starfish academic advising, and more.
As part of Penn State Go's launch, students will be able to curate their experience by selecting a specific Persona (user role) from the currently available choices — University Park, World Campus, and a unified Commonwealth Campus. Planned future updates to the app will allow for specific Commonwealth Campus Personas. Additionally, students can keep informed and connected to what is happening at Penn State by opting into specific channels to personalize the types of messages they wish to receive.
Penn State Go is a University-wide initiative that brings together various units and departments to collaborate on its development to improve the student mobile experience. "Aligned with Penn State's Strategic Plan priority of 'Transforming Education,' Penn State Go will help achieve Penn State's vision for One Penn State 2025 by providing a seamless student experience and online access to processes across all Penn State campuses," said Nick Jones, executive vice president and provost.
Student feedback played a significant role in developing a comprehensive mobile platform for Penn State. Discussions with University Park Undergraduate Association (UPUA) and other groups began in early 2019 and provided insight into what Penn State Go features were essential to ensure the app's success.
Students were also engaged through online surveys to prioritize the desired features and suggest a name for the mobile app. 
"Penn State Go is going to be a great addition to the Penn State community. As a student, it has everything compiled into one application, and that makes finding everything a lot easier," said Sarah Jordan, a sophomore in education and UPUA facilities committee vice chair. "My favorite feature is Starfish because it makes it easier for me to contact an adviser. The overall aesthetic of the application is welcoming as well."
"As a UPUA representative on the Penn State Go team, I have loved seeing everything come together from the beginning of my involvement through to having the downloaded app on my phone. It is truly amazing to see how much time and effort has been put into the final product," Jordan added.
More than 3,000 survey respondents representing undergraduate and graduate students at Penn State, including University Park, World Campus, and 20 Commonwealth Campuses, determined that the top features of a mobile app were Canvas,  LionPATH, Penn State email, academic advising, campus safety, and library services. A follow-up survey was conducted in which students selected Penn State Go as the name for  the mobile app.  
"The Council of Commonwealth Student Governments is thrilled to adopt the Penn State Go mobile app. It is a major step toward streamlining the Penn State student experience and ensuring that, even for the commonwealth, Penn State is One University," said Kenneth Gatten III, a junior in English and president of the Council of Commonwealth Student Governments.
In fall 2019, student beta testers for Penn State Go provided feedback on its functionality and suggested future improvements. 
"My favorite part of the app is how everything is in one place. Being able to jump from features such as Canvas to Athletics without having to type it into my search browser each time has made me more engaged with the University and aware of what is happening," said Marlowe Galbraith, a junior in political science and UPUA facilities committee chair. "The UPUA's involvement in the development of this app began years ago, and I began my involvement last spring. I have loved being a part of this process and representing student voices."
Surveys were conducted both virtually and through in-person focus groups.
Matt Hansen, a graduate student in the master of geographic information systems program and technology committee chair for World Campus Student Government, sees Penn State Go as a valuable resource for Penn State's online learners. "The Penn State Go mobile team successfully pulled together resources spread across the university and refocused them into a new unified student-centered mobile app. World Campus students rely on online resources to engage with the University and each other but navigating the wide range of services can be challenging," he said. "As Penn State Go continues to evolve, I think it will serve as a valuable go-to resource for all students throughout their academic careers."
University Park students are invited to visit the HUB-Robeson Center from 8:30 a.m. to 3:30 p.m. Jan. 23, for a Penn State Go "takeover." Students can learn more about Penn State Go, win prizes, and speak to other students who have downloaded the app.
After the successful launch of Penn State Go, development of the mobile app will continue to grow in scope to include personas (user roles) for faculty, staff, alumni, campus visitors and prospective students. 
A desktop version of Penn State Go will also be released in 2020. This version will allow students to access information on the web with key links to Penn State resources and services, including LionPATH, Canvas, and Penn State email.  
"Penn State is committed to adopting innovative technologies that advance student success and lifelong engagement. Ultimately, the goal of Penn State Go is to provide students, faculty, staff, alumni, as well as campus visitors access to all their needs, including academics, student life, and resources, from anywhere, at any time.  The app will also be used at Penn State events to bring a new experience to the Penn State community," said Don Welch, interim vice president and chief information officer.
Penn State partnered with Modo Labs, a provider of content delivery solutions for mobile platforms and devices on the development of Penn State Go. More than 300 universities and colleges, including MIT, Harvard University, University of Central Florida, University of Notre Dame, Princeton University, Stanford University and Georgetown, have also worked with Modo Labs.
Visit the product page at mobile.psu.edu for more information on Penn State Go and its features.