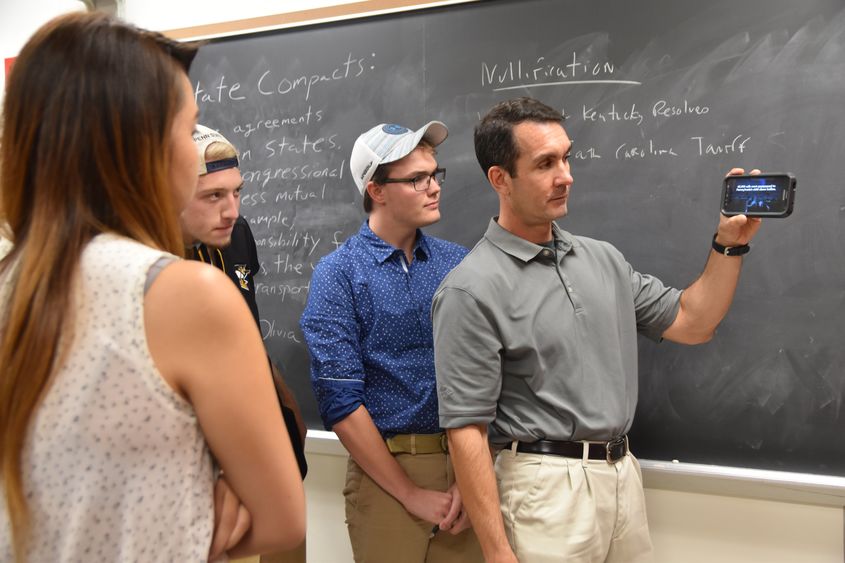 YORK, Pa. — Political science students at Penn State York took a sneak peek at Pennsylvania State Auditor General Eugene A. DePasquale's new campaign ads, and had the opportunity to hear about his duties and responsibilities when he visited Jon Price's political science class last week.
"Penn State political science students greatly benefited by hosting Pennsylvania Auditor General Eugene A. DePasquale as a featured speaker," said Price. "DePasquale spoke about his career in public service at the state and local level and motivated students to consider careers in the public sector."
In addition to sharing some personal stories about his career and family, DePasquale explained the importance of the audit process as a means to help ensure that citizens are served in a fiscally-responsible manner by public agencies, and how the process often improves the quality of work performed at that organization. As an example, the examination of the Department of Environmental Protection (DEP) and the resulting shared findings ensured that the state's water supply is properly protected from natural gas drilling.
In other audits performed by DePasquale's office, it was discovered that there were 45,000 unanswered child abuse hotline calls and 3,044 untested rape kits in Pennsylvania. As a result of his efforts, work is underway to lobby the legislature for additional funding to enable public employees to complete this work and ensure that these deficiencies do not happen again.
Throughout the year, Price invites elected officials from both parties to talk with his classes and provide real-world experiences.