Funds raised will support survivors of sexual assault, domestic violence and human trafficking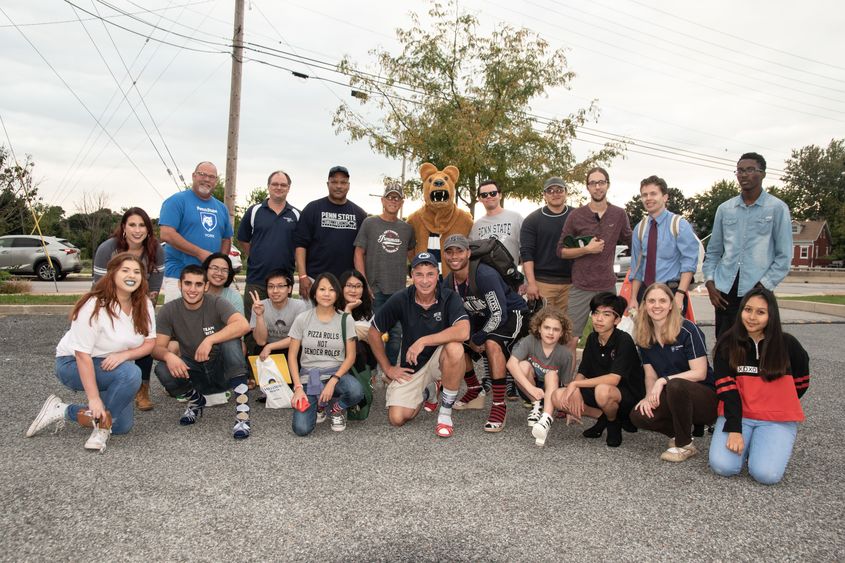 YORK, Pa. — Walking to make a difference, Penn State York students, faculty, staff and members of the York community will once again team up to participate in Walk a Mile in Her Shoes, on Friday, Oct. 4 in downtown York, Pennsylvania. The goal of the event is to raise awareness and funds that can change the world by supporting the YWCA of York's work to help survivors of sexual assault, domestic violence and human trafficking.
The event begins at 4:30 p.m. at the York County History Center – Agricultural & Industrial Museum, 217 W. Princess Street, with the walk starting at 6:30 p.m. Many participants will do the walk wearing high heels.
For Lt. Bob Lehman of University Police and Public Safety, organizer of the Penn State York team, the walk has been a part of his life since his now 23-year-old daughter was a teenager.
"I like the event because it gives me an opportunity to show my daughter the importance of healthy relationships and self-respect," said Lehman. "As a police officer, it was not uncommon for me to see relationships that were abusive. As a parent, I wanted to make sure that all my kids knew that this type of behavior was not acceptable and not to be tolerated," he said. "Today, I think that this message is more important than ever. I applaud our campus community for taking the steps to make a difference. I am proud of our students for getting involved. I would like to think that we, at Penn State York, are helping mold our next generation of leaders," Lehman said.
Last year, the Penn State York team raised $1,730 and had 26 walkers, including members of the campus and community. The team goal for 2019 is to raise more than $2,000 and have 30 walkers.
A walker last year, Josh Wolgamuth, a Penn State York student majoring in biology, talks about why he has participated in the walk. Wolgamulth is participating in the walk again this year.
"This past Walk A Mile was my fourth time participating in the walk. My motivation for doing the walk was in support of my sisters," he said. "I am their big brother. I would do anything for them. Not every girl has the support of a big brother, but Walk A Mile gives women the opportunity to feel safe and loved as I try to do for my sisters."
Tim Perez, a mechanical engineering technology major, also participated in the walk last year.
"I walked because it was for a good cause. It raised awareness for domestic violence, which is a problem in the U.S. that needs to end," he said.
Another supporter of the 2018 walk, Nicole Muscanell, assistant professor of psychology, shared her thoughts.
"Sexualized violence is something that many women, especially young college women, are affected by. When I teach this topic in my courses, I often find that my female students are extremely aware of the issues, and many have experienced it themselves," said Muscanell.
"Sometimes this issue is seen as a feminist one that only women care about, so the Walk a Mile event is important because it extends the conversation and involves men as active participants, she added. "We wanted to get the Psychology Club involved not only because it is an issue that we all care about, but, also because it allows our students to support each other and to serve as models for other students on campus."
Those interested in registering for the walk should visit the website and select the Penn State York team.
Students can participate at no cost thanks to the generosity of the Women's Philanthropic Network at Penn State York. Students should stop by the academic affairs office in the John J. Romano Administration Building and obtain a code from Jamaira Unangst, administrative support assistant. Registrants will be asked for the code at the checkout area on the form when they register online.
Penn State York has been one of the sponsors of the events for several years. For more information on becoming a part of the Penn State York team, contact Bob Lehman at 717-771-4103 or [email protected].