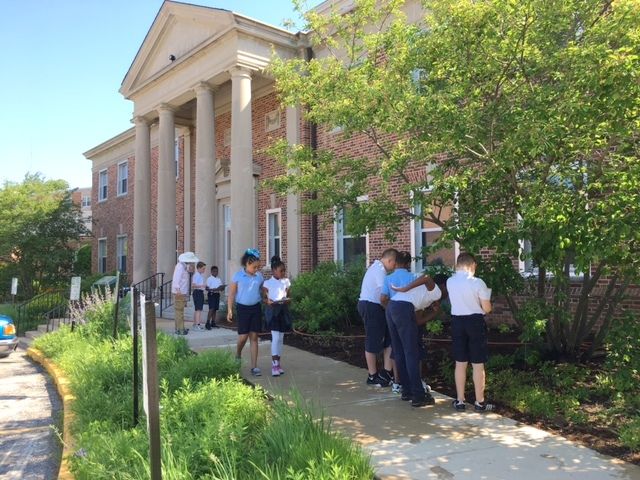 UNIVERSITY PARK, Pa. -- An innovative youth outreach program led by Penn State Extension Master Gardeners of York County is helping youngsters "escape" into a world of flowers, wildlife, water and fun.
Mid-Atlantic Ecological Landscaping -- MAEscapes for short -- provides hands-on lessons to York County third-, fourth- and fifth-graders on the importance of promoting biodiversity and protecting the natural environment, according to Linda Silverman, who co-coordinates the program with fellow volunteer Rita Potter.
"Since its inception 11 years ago, the program has helped thousands of youngsters gain a deeper understanding of and appreciation for native plants, water conservation, wildlife and the importance of reducing pesticide use," said Silverman, who noted that in 2017 alone, more than 400 youth took part in MAEscapes activities. "We are training the next generation to protect our natural resources."
Master Gardener volunteers develop goals and curriculum, all of which align with state education standards, and put those lesson plans into action in York County schools, at local summer camps and in the Migrant Worker Program. There is no cost to participants, thanks to donations from the MAEscapes advisory committee and support from the schools.
"An undertaking of this kind takes countless hours of planning, implementation and evaluation," said Nancy Knauss, state Master Gardener coordinator for Penn State Extension. "Our volunteers are generous with their time and talent, and it really shows in the breadth of material they cover through hands-on activities, classroom lessons and one-on-one discussions."
The third-grade program, called "Let's Get Wet," introduces students to the role that native plants play in protecting the hydrologic cycle. All lessons focus on water as a nonrenewable resource to help students gain an understanding of where water is stored and how much is available for human use. Through interactive activities, students learn about the Susquehanna River watershed and its ecosystems and how they are affected by of erosion and pesticides.
Fourth graders are encouraged to get "buggy" during "Pesty Day," which covers the relationships between insects and native plants in a defined habitat. During an interactive lesson, students experience predator and prey relationships and learn about the effects of pesticide use. They also visit the MAEscapes demonstration gardens at the York County extension office and have the chance to hold real insects, such as cockroaches and caterpillars.
Caitlyn Michael, a fourth-grade teacher at York Area Regional Charter School, has welcomed the Master Gardeners and their "Pesty Day" program in her classroom for the past five years. "Working in an urban school, my students do not have a lot of hands-on experience with nature and helping the environment," she said. "The Master Gardeners bring an enthusiasm and expertise to my classroom about topics that I have an appreciation for but can't properly do justice to the way they do."
Fourth-grade teacher Sarah Benton from Larry J. Macaluso Elementary School in Red Lion, also is a fan. "My students loved the hands-on aspect and the different topics," she said. "The program offers a lot of variety and a 'field trip' feel. It's awesome for young learners."
The fifth-grade classes experience the niche that water fills in an ecosystem in the "Ecosystems and Environments" module, during which they discover the importance of biological diversity using native plants in contrast to non-native plants. Plant characteristics are part of the instruction, and students are tasked with designing and planting their own garden at their school.
Master Gardener Joy Howell, who has been with the program since its infancy, can speak to the program's impact. She recalled an interaction a few years back at Hannah Penn Middle School, where Howell was tending to the school's garden. A student who took part in MAEscapes approached her and relayed that his family was moving.
"He seemed disheartened, so I listened while I worked," she said. The student told her that he hoped that he would have a yard at his new home so he could have his own "native" garden. "I stood straight up -- this young man had my full attention," Howell said. "We had, in fact, reached the next generation."
At the end of the school year, teachers are asked to evaluate the program. One of those educators is Michael Lowe, principal of York County Upper School. Prior to working in his current role, Lowe hosted MAEscapes at Davis Elementary in the York City School District.
"I have always been impressed by the Master Gardeners because of their knowledge and passion and willingness to work with my students," he said. So impressed, in fact, that Lowe is now a member of the Master Gardener class of 2019.
In addition to Silverman, Potter and Howell, MAEscapes helpers are Jim Kirby, Rene Manzella, Carol McDonald, Gayle McCalpin, Karen Mitchell, Diane Oleson, Alice Simmons, Tom Smith, Priscilla Waldman, Judy Dippner and Richard Silverman.
They are among 3,165 Master Gardener volunteers in Pennsylvania who support Penn State Extension's educational programs in consumer horticulture. They help extension better serve the home-gardening public by answering questions, speaking to groups, gardening in the demonstration gardens, assisting in Penn State pollinator research and participating in many other projects.
To learn more about the Master Gardener program, visit the Penn State Extension website at http://extension.psu.edu/programs/master-gardener.