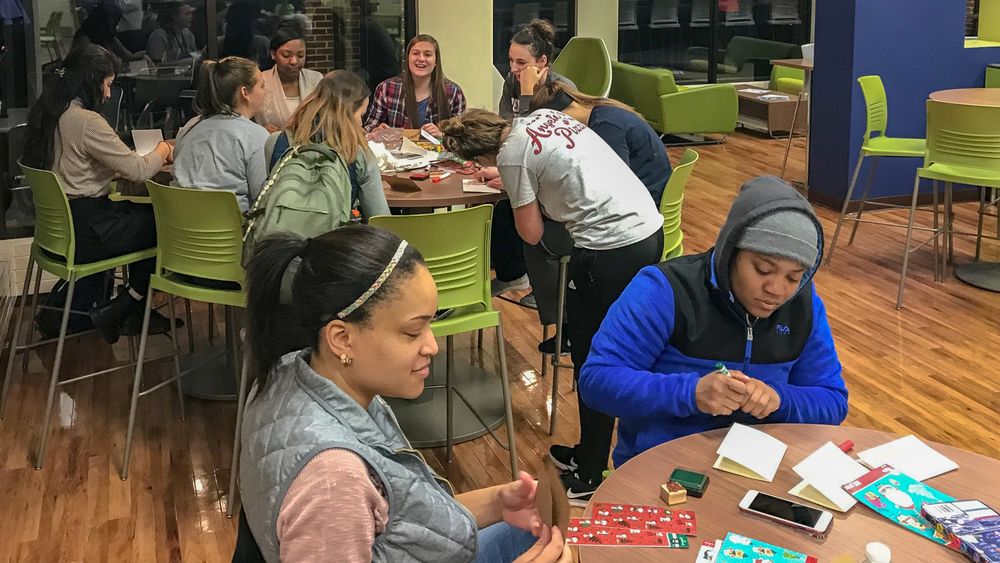 YORK, Pa. — Members of the Penn State York women's basketball team lifted the spirit of residents at SpirTrust Lutheran, The Village at Gettysburg in Gettysburg, Pennsylvania, with a visit right before the holidays. The young women delivered Christmas cards they made, assisted residents in a game of shooting hoops, showed off some basketball tricks, and sang Christmas carols with the residents. They also had the opportunity to meet and talk with a 100-year-old resident who played basketball when she was in high school.
Terri Van Slyke, head basketball coach at Penn State York, arranged for the visit through a former Penn State York basketball player and Penn State York graduate, Courtney Riggs, who works at the facility as a certified nursing assistant. Riggs played basketball for Van Slyke, and in 2014 made history by becoming the first women at the campus to reach the 1,000-points scored milestone. an Slyke and Riggs have stayed in touch over the years.
"It is really important to me to instill in our players the meaning of service," said Van Slyke. "Each year we make Christmas cards for different groups, and this year an opportunity opened up for us to make and deliver cards to residents at SpiriTrust Lutheran, where one of our former players currently works," she said. "It was a great experience for us to interact and spend some time spreading holiday cheer with the residents. We were very appreciative for the opportunity to visit, and I hope it made their day like it did ours."
Little did Van Slyke know, one of her players, Karra Thomason, a senior at Penn State York majoring in business, had visited the facility when she was a child because her mother worked there organizing activities with the residents. Some of the people working there remembered Thomason visiting with her mom.
"It brought back the memories of the fun experiences I had trick-or-treating and going on Easter egg hunts with the residents," said Thomason. "I'm grateful I was able to come back and deliver cards and sing Christmas carols with them. We really enjoy volunteering and giving back to the community."
For Janelle Kress, a freshman at Penn State York majoring in civil engineering, the visit had a positive impact.
"It was great seeing all of their faces light up when we gave them Christmas cards. Hearing them sing along with us to Christmas carols made me feel good to give back to the community," said Kress.
To learn more about the women's basketball team at Penn State York, and other collegiate sports available, visit pennstateyorksports.com. In addition to women's basketball, Penn State York offers baseball, men's basketball, soccer, women's softball, and women's volleyball.