Participants wore high-heeled shoes and walked through WellSpan Ballpark to raise awareness about sexualized violence and donate money to the YWCA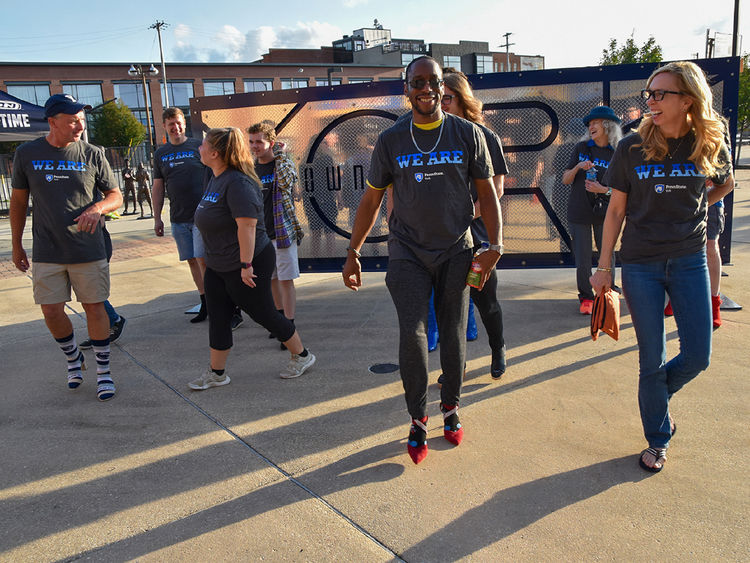 YORK, Pa. — Fourteen members of the Penn State York community participated in the 2023 "Walk A Mile In Her Shoes" event and raised $917 for victim services at the YWCA of York, finishing in fifth place for overall fundraising. The event took place on Oct. 5 at WellSpan Ballpark in York, Pennsylvania. Five additional team donors contributed to the total of funds raised by the campus. The YWCA received a total of $35,956 from the event.
"Walk A Mile In Her Shoes" is a charitable event which raises money for victim services offered through the YWCA. During the event, volunteers wear high-heeled shoes and walk one mile together to help open conversations surrounding gender relations, particularly the issue of men's sexualized violence against women.
"The YWCA plays a crucial role in our community in raising awareness, supporting victim advocacy, and the prevention of sexual assault, domestic violence, and human trafficking," said Lt. Robert Lehman of the Office of Police and Public Safety at Penn State York. "Hopefully, our students never have to experience any of these things, but that is an unrealistic hope. Our participation in this walk demonstrates our willingness to step up and be a positive force for change."
Lehman helps organize the campus' participation in the event each year and is passionate about supporting women's rights, he said. Penn State York is also one of the sponsors of the walk.
"I started doing the 'Walk A Mile' with my daughter when she was in middle school to help teach her confidence and self-respect," he said. "She is now a doctor of internal medicine, and I couldn't be prouder of her. You never know how the positive example you set today will help form someone in the future."
The Penn State York students who participated in this year's walk also expressed what the cause means to them personally.
Jayden Battle said, "It's an important cause to me because as a human development and family studies (HDFS) major, I know how much sexual assault or harassment can negatively affect someone's life. The YWCA is an amazing program that does amazing things and I just wanted to help out where I could."
Charles Lewis shared, "I had a great time participating in the YWCA's 'Walk A Mile In Her Shoes' fundraising and awareness event. It's important to stand up publicly against domestic violence and sexual assault because both issues are all-too-often 'brushed under the rug.' They are tough topics to talk about but the only way we are going to be able to reduce the instances of both is to bring them into the limelight continuously. This was a fun, healthy and athletic way to show support for those whose lives have been unfortunately touched by these plights. This is definitely an event I plan on participating in again in the future!"
Lehman hopes that participating in the walk will empower students to advocate for gender equality and for themselves.
"Penn State is molding the future leaders of our communities so I can't think of a better opportunity for us to demonstrate our commitment to making a positive change for the future," Lehman said.