Deadline for submission is Oct. 31 for the literary magazine and contest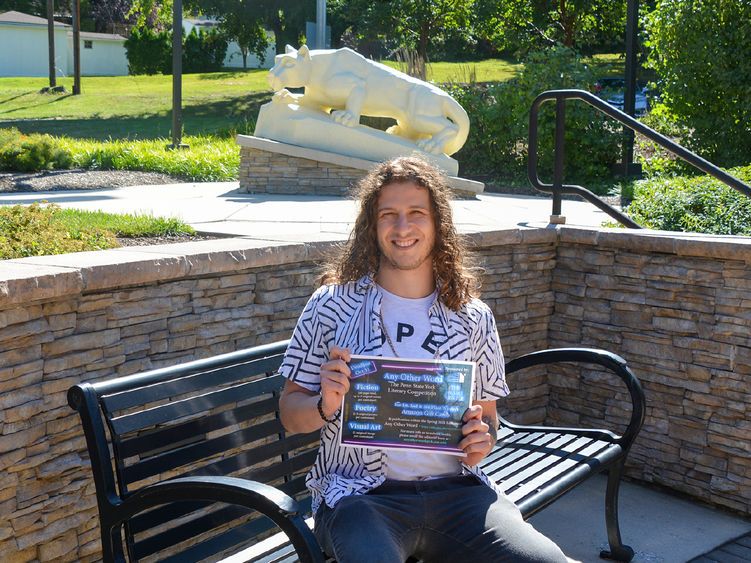 YORK, Pa. — Calvin Bellomo, an English major at Penn State York, said he is excited to be the editor of "Any Other Word," Penn State York's online magazine and to review works for the Penn State York Literary Competition. The deadline for submissions is Oct. 31 and Bellomo said he hopes students will submit their work.
"Submitting work for the contest and magazine are good ways for students to get their names out and a cool way to engage with the campus community," he said. "They might even win some Amazon gift cards."
Born and raised in West Manchester, Bellomo, age 27, admitted he has taken his time to decide what he would like to do with his career. Since he was a child, he said, he has always had a passion for books and over the years has finally discovered what he wants to do, thanks to being a part of the English program at Penn State York.
Serving as editor for "Any Other Word" and reviewing work for the contest, said Bellomo, will prepare him well for his career aspirations of working at a publishing house and writing and publishing a book someday.
"It has been an awesome experience here and there has not been a moment where I wanted to be anywhere else," he said. "Dr. [Noel] Sloboda was the first professor in my years of college who really made me feel like I was doing what I should be doing."
Bellomo had always wanted to attend Penn State and is part of a family of Penn Staters: His brother, grandfather and two cousins are all Penn State graduates. His earlier educational journey included earning an associate degree in computer science from Harrisburg Area Community College in 2020.
A fan of fantasy and realistic fiction, Bellomo is working on a manuscript and getting ready to review work for the competition along with Sloboda, associate professor of English, who is also the adviser for the literary magazine. Bellomo said he believes this is a great way to spend his senior year.
About submissions
This competition is open to Penn State York students. Submissions for the literary contest and magazine are being accepted through Oct. 31. Winners will receive Amazon gift cards and have their works published in the 12th edition of "Any Other Word," set for publication in spring 2024. 
Three prizes are offered in each category: fiction, poetry, and magazine cover art. In the fiction category, a maximum of 20 pages will be accepted; and in poetry category, between one and five poems can be submitted. Paintings, drawings, photos and collages can be entered for the cover of the online publication. Only top-quality works will be published, and some prizes may not be awarded. Gift cards will be given during the spring 2024 semester.
All submissions, along with any questions, should be submitted to the editorial team at [email protected].
The Pullo Center has supported student creative work for several years and has helped provide the prizes for the contest. Work published in "Any Other Word" is selected by its editors, who read all entries submitted and make selections; the student adviser has the final say on what is published. All authors retain full copyrights of their works.
The publication takes its name from the quote by William Shakespeare, "What's in a name? That which we call a rose by any other word would smell as sweet." To learn more and to read previous issues," visit the "Any Other Word" website.