Buck Stuckey and Megan Clark found course helpful and a key to success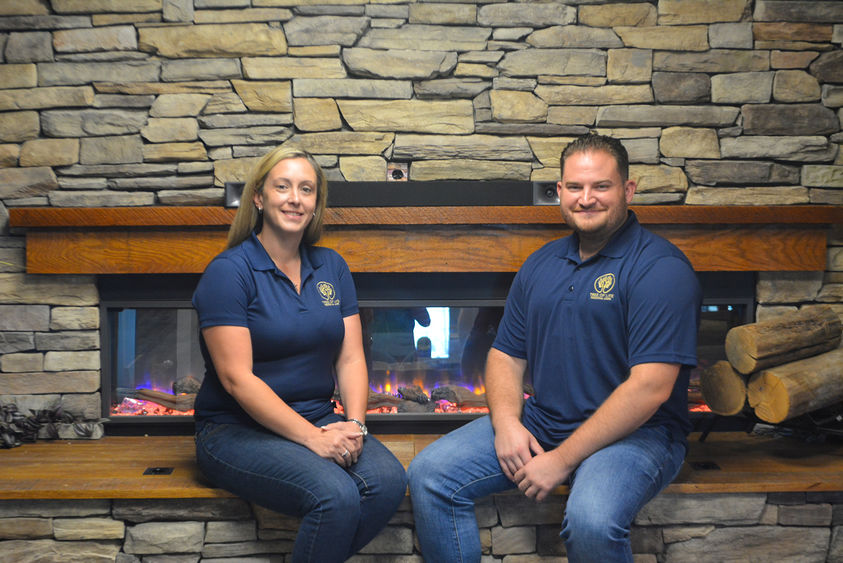 YORK, Pa. — Buck Stuckey has had a passion for caring for others, especially senior citizens, since he was a child, he said. Stuckey, now the president and CEO of Tree of Life Personal Home Care Community, in Hanover, Pennsylvania, has put that passion to work and attributes much of his success thus far to the knowledge he gained through the accelerated personal care home administrator (PCHA) training offered through Penn State York.  The course is offered on weekends via Zoom.
"I was at a point in my life where I was self-employed and had time to start researching what it takes to open a home," said Stuckey. "I did a google search of PCHA programs local to me and found Penn State York's course."
Stuckey completed the course and now has two senior communities in Hanover: Tree of Life Railroad and Tree of Life Grandview.
"I already had many years of experience with boarding houses and hotel rentals, so personal care seemed like the next step for me," he said. Stuckey has worked in real estate for more than 13 years.
As an approved training provider for the Commonwealth of Pennsylvania, Department of Human Services (DHS), Penn State's Personal Care Home Administrator 100-hour training program is offered in various formats, from an accelerated four-weekend option, to evening classes.
"We can help you achieve your goals," said Patty Bowen, director of continuing education at Penn State York. "Our DHS and Penn State approved instructors are experienced within their field of instruction to provide participants with the information and skills needed to become a successful administrator," she said.
According to the U.S. Department of Commerce, U.S. Census Bureau it is projected that by 2030, 73.1 million people or 21% of the population will be 65 and older. By 2040 that number is expected to increase to 80.8 million people, or 22% of the population. With the number of older adults and increased longevity as factors, this is prompting the demand for long-term services and support, including a growth of long-term care accommodations.
Megan Clark, a personal care home administrator who wears many hats at Tree of Life, also enrolled and completed the PCHA course and is a part of the business. She wanted to pursue a career where she could really care for the whole person, not just provide outpatient care as she had in the past in previous positions in the hospital system, she said.
"I wanted to be able to do more and make a difference in a vulnerable population," said Clark. "I feel as through Tree of Life is a family-like environment that can help ease the burden on families."
Both Clark and Stuckey liked the flexibility of the program schedule, with courses on weekends, and how it allowed them to maintain their personal and working lives while going through the training. They also liked the openness of the classes and the ability to ask questions and interject when needed.
"I think anyone who is truly interested in working in senior care would benefit from this program," said Stuckey. "There were several different instructors with all types of senior living backgrounds. Their stories and experience were valuable and made the material relatable," he said. Clark agreed and noted that the program is well-rounded and structured. They both shared that as new personal care home owners, they have related back many times to the material and knowledge they received in class.
They have also made it their goal to provide a variety of amenities for residents including catered meals, transportation, hair and nail services, a movie theater, computer and Wi-Fi access, and a rooftop lounge complete with a koi pond. All staff are CPR-certified and a registered nurse is part of the team. Stuckey and Clark hope that by providing additional services, residents will feel more at home.
"Buck and Amanda are just two examples of our many students," said Bowen. "If you enjoy working with others, especially the senior population, a career as a personal-care home administrator can be extremely rewarding. You get to collaborate with individuals and family members to help those in your care live their lives to the fullest. As an administrator, you oversee all the activities of the home, from creating a safe and secure environment for your residents, to supervising staff, and engaging with local community support systems. You can make a positive and very gratifying career choice."
Multiple sections of the course are starting in the fall, Sept. 8-30 and Nov. 3-Dec. 2. For more information or to register, visit the website.
Stuckey and Clark are so pleased with everything they gained from the accelerated PCHA training 100-hour course, they plan to send additional staff to it, said Clark.
"We have kept in touch with several of the instructors and continue to glean experience from them. This field is by no means easy, but after completing this program, we feel we are more prepared to take on the challenges we are facing," said Stuckey.