Students, faculty, and staff invited to The Bradley Building to learn important finance tips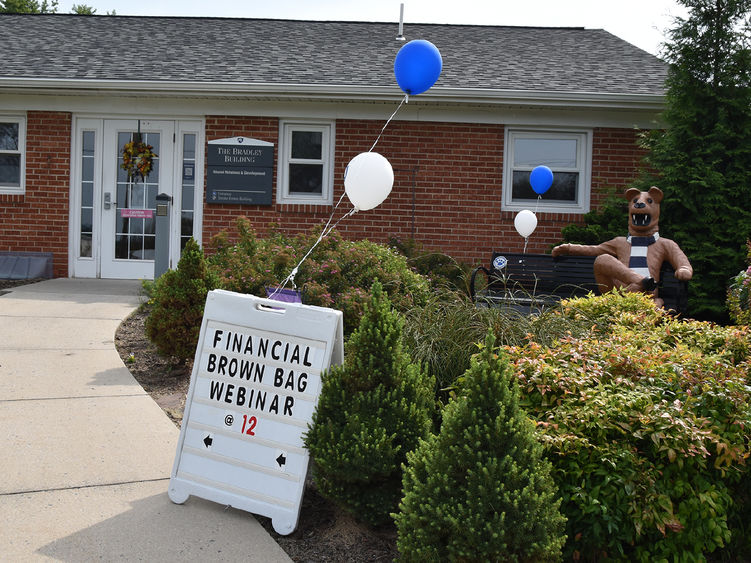 YORK, Pa. — A free financial webinar series is coming to The Bradley Building on the York campus at noon every other week from Sept. 5-Nov. 28. Students, faculty, and staff are welcome to attend, no registration required. The webinars will each cover a different topic relating to financial literacy, hosted by the Sokolov-Miller Family Financial and Life Skills Center, based out of University Park.
Iona Conlon, alumni relations and stewardship officer at Penn State York, has organized the lunchtime webinar viewings in collaboration with the Blue & White Society students. These group sessions provide students with access to one of the many opportunities available to them through the University and offer a chance for the campus community to spend time together.
"I think that once students learn they have this benefit and that the Sokolov-Miller Center is available to all students, perhaps they will take advantage of other resources," Conlon said.
Drinks and snacks will be provided, but attendees are encouraged to bring their lunch.
MoneyCounts: A Financial Literacy Series
Members of the Penn State York community who are interested in learning more about financial literacy should go to the front room of The Bradley Building from 12-1 p.m. on any of the following dates:
Sept. 5 – Money and Nutrition: It can be easy to overspend on food. This webinar will cover strategies for planning, purchasing, and preparing food in ways that help improve spending and eating habits, for a healthier diet and wallet.
Sept. 19 – Financial Literacy Overview (FLO): Having the knowledge and life skills to make informed financial decisions is important to financial wellbeing, but it only works when paired with positive behavior. This webinar explains how the shift from financial education to financial literacy occurs when knowledge leads to action.
Oct. 3 – Building a Better Budget: Saving money might seem simple, but it does require planning. This webinar will help budgeting feel less like a mathematical exercise and more like a roadmap toward a higher standard and quality of living.
Oct. 17 – Debt Management: Managing debt begins with recognizing the symptoms of debt and understanding the commitments necessary to reach a financially secure and independent future. This webinar offers a self-study module to guide learners through the first steps in debt management.
Oct. 31 – All About Credit: When it comes to appealing to lenders, creating and building a good financial reputation is important. That's where good credit comes in. This webinar covers how credit works and outlines some actions that can help consumers improve and maintain good credit.
Nov. 14 – Credit Cards: There are pros and cons to credit cards. This webinar includes a self-study module that covers how to select a credit card, read a billing statement, and manage debt. It also covers credit history, credit reports, and credit scores and what they mean to consumers.
Nov. 28 – Saving and Investing: The investment landscape grows more complex all the time. This webinar covers the basic information individuals need to make informed decisions and proceed with their saving and investing plans.
For more information about the financial literacy webinar series hosted at The Bradley Building, please contact Conlon at [email protected] or 717-718-6781
About the Sokolov-Miller Family Financial and Life Skills Center
The mission of the Sokolov-Miller Family Financial and Life Skills Center is to "provide students with the ability to use knowledge and skills to manage financial resources effectively for a lifetime of financial wellbeing." According to the center, the five principles of financial literacy are:
Earning
Saving and Investing
Spending
Borrowing
Protecting
Penn State supports financial literacy through workshops, class and group presentations, and webinars with the goal to assist students in achieving financial goals.