Carly Wood and Robert Farrell honored for their work with The School District of the City of York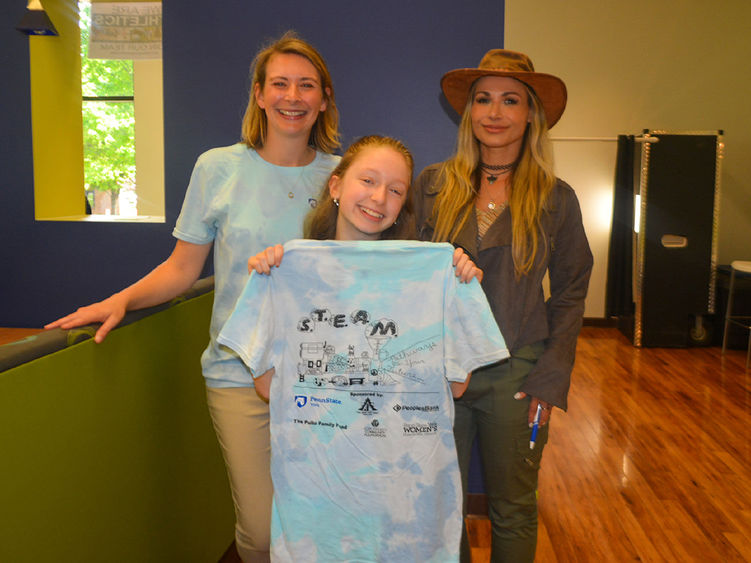 YORK, Pa. — Carly Wood and Robert Farrell were honored with the Community Support Award from The School District of the City of York for their contributions to local community educators and students. Awards were presented at a ceremony in June, which was the first of its kind held by the district.
As director of academic affairs at Penn State York and Wood's supervisor, Farrell oversees endowed funds from Penn State York given to the STEAM (science, technology, engineering, the arts, and math) Academy, a York City school district charter school that focuses on project-based learning (PBL). Wood and Farrell work together to ensure those funds are distributed in ways that best serve students.
"I appreciate Carly's ongoing contributions to the STEAM Academy. She represents Penn State York very well in the community, and I am delighted that she and I were both recognized with a Community Support Award," Farrell said.
Pedagogy, reimagined
Wood served many years of her career in a traditional teaching role. While she enjoyed planning lessons and working with children, she encountered limitations in the resources available to her school. When she learned about the partnership between Penn State York and the York City school district to support innovative instruction, she was excited to apply, she said.
The STEAM Academy is a Pre-K through eighth grade school in the district. Wood explained that the STEAM Academy is a Title I magnet program focused on STEAM integration and PBL.
"My role at the STEAM Academy is to work as a liaison between the STEAM Academy and Penn State York," said Wood.
Penn State York uses endowment funds to purchase technology, sponsor trips and fund in-school experiences to support student learning at the STEAM Academy. The goal is to provide a student-centered approach to learning where lecturing is not the only pedagogical technique used; rather students are encouraged to think critically and solve problems together.
"I meet with teachers to learn about their units of study, help them plan, and connect them with resources for their classroom to support their students' learning," Wood said. She also collaborates with the teachers, principal and other school leaders to develop training opportunities that bring PBL into the classroom.
"I love finding creative ways to help teachers enhance the great work they are already doing with students at STEAM. PBL was my passion when I was a teacher myself and I really enjoy supporting the STEAM Academy as they integrate PBL into their curriculum," said Wood.
Getting hands-on with shoes and chairs
Part of experiential learning is finding a solution to a problem or answering a prompt. For students in kindergarten through eighth grade, this can mean building a practical object using basic materials.
"Each year I help plan the STEAM Cup Challenge," said Wood. "This event brings community partners into the school to work directly with students on a fun, hands-on challenge. The shoe-design STEAM challenge in 2019 was one of the first large events I worked on for the STEAM Academy. I developed client blurbs, materials lists and design packets for students in K-8. I also ordered and organized supplies for each classroom and spoke at a whole-school assembly. I was used to planning only my own classroom, so this was a big leap for me."
Students selected clients to design shoes for. Some examples included a hiker, a businessperson, a basketball player, an 8-month-old baby, and a dancer. Students then had to design a shoe that met the client's needs.
"Students even modeled the shoes in a fashion show! It was so fun, and they did such great work," Wood said.
This year, students designed and built cardboard chairs for organizations around York. To kick off this year's STEAM Cup Challenge, Wood invited artists from Creative York who provided expertise on cardboard construction. Several local businesses met with classes to share feedback on the designs and introduce students to professional design critique.
Two of the chair creations are on display in The Bradley Building at the Penn State York campus to showcase the innovation of this year's participants.
Wearing many hats
Coordinating between the STEAM Academy and Penn State York is not the only role Wood plays in the lives of local students.
"I coordinate the Pathways to Your Future program for seventh and 10th graders and I direct the Nittany Scholars Program (NSP) for the York campus," Wood said.
Pathways to Your Future is a free career awareness program where working professionals visit the Penn State York campus to host a series of free lectures and interactive activities to demonstrate their role in the workforce. Some examples include examining soybean crops with the help of an agronomist, making a new color of nail polish with a chemist, and completing a series of motor skill challenges with a physical therapist.
Penn State York has offered the program to seventh graders for more than 25 years, with tenth graders being added for the first time in the spring of 2023. The day typically opens with a keynote speaker who shares their professional journey with the whole group before students break out into smaller workshops.
"There is a lot of overlap with the Pathways program and my work at STEAM," Wood said. "Working with inspiring teachers at STEAM gives me great ideas that I can use at Pathways. I learn about cool robotics tools, community programs that I can highlight, and I develop relationships with local artists and experts that I can recruit to lead workshops at Pathways."
Creating a better college experience
The Nittany Scholars Program (NSP) at Penn State York is designed to support eligible students who, for various reasons, may not have the resources or social privileges they need to succeed throughout their college experience. Resources available through NSP include:
Mentorships
Financial literacy workshops
Career advising
Academic coaching
Networking opportunities through community service projects
NSP students may also receive financial support in the form of book stipends, gas cards, laptop loans and other practical resources.
"I hope to create more overlap between NSP and my youth coordinator work," Wood explained. "I also hope that, eventually, some of the students that I get to know at STEAM might become Penn State students who I can support through my work with NSP. Some of the first students who I met in 2019 are almost old enough to be graduating soon!"