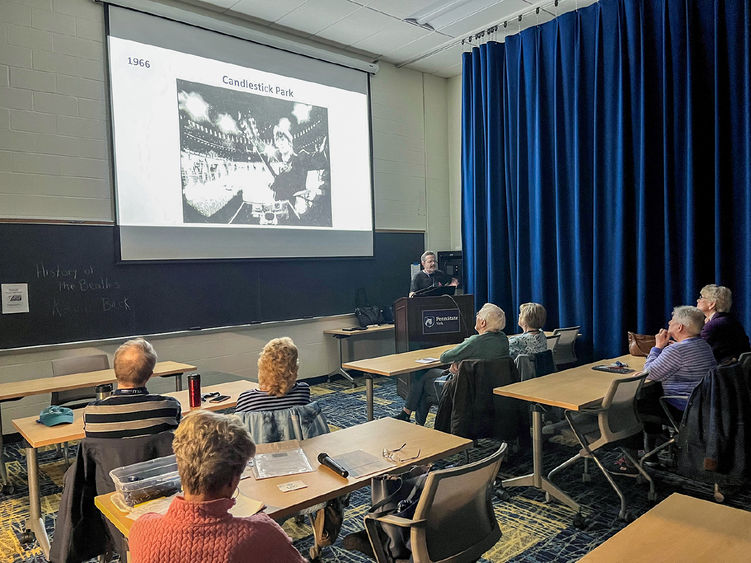 YORK, Pa. — With weekly food truck lunches, movie screenings, book discussions, and lectures on topics ranging from the James Webb Space Telescope to the artwork of Gustav Klimt, members of the Osher Lifelong Learning Institute (OLLI) at Penn State York can meet new people, visit new places and explore new topics.
OLLI is a service of Penn State Outreach that offers community members aged 50 and over the chance to learn, explore and connect through education and social enrichment.
The summer course schedule, descriptions and registration are online now, so sign up for OLLI courses and events before they fill up.
A focus on diversity, equity, inclusion and belonging
The topics for this season's courses were chosen in part with the Penn State diversity, equity, inclusion and belonging (DEIB) goals in mind, according to Jennifer Geubtner-May, director of OLLI at Penn State York.
"Our summer semester has numerous courses to expand one's knowledge of issues related to DEIB, including 'The ABCs of LGBTQIA2S+'; 'Understanding Critical Race Theory'; our July Book Club choice is 'Caste' by Isabel Wilkerson; and 'Social Justice: Religion, Politics, Police, Exploring Moral Values, Human Events, and Conflict Resolution,'" said Geubtner-May.
As outlined in the summer catalog, participants in these courses are expected to bring an open heart and mind, while leaving their biases at home.
Not ready to commit? Give it a try!
While some courses, tours and events are for OLLI members only, anyone is welcome to register for a summer course to get a feel for what it's like.
"Our summer semester was designed to keep our members continuously learning, while introducing others to all that OLLI provides," explained Geubtner-May. "Nonmembers can take courses for the same price as members — $8 for a single-session course, without becoming a member."
During other times of the year, nonmembers pay more for courses, making the summer semester a great opportunity to get started before committing. OLLI also occasionally offers free lectures through the OLLI Lecture Series.
All the enrichment, none of the pressure
OLLI courses and events exist to help enrich the lives experiences, and relationships of older members of the local community. Think of it like all the best parts of school — intellectual conversations, social time, and field trips — without any of the homework, tests or grades.
OLLI at Penn State York
OLLI at Penn State York boasts more than 750 members who have a desire to stay active and never stop learning. OLLI came to Penn State York in 2007, thanks to the efforts of three women — Olive Padden, and the late Charmaine Kissinger and Gussie Petron — and their thirst for knowledge and mental stimulation.
The idea of offering courses of interest during the day for adult learners without the stress of tests, requirements and official textbooks appealed to the trio, and thanks to their leadership, OLLI began offering courses in April 2008. Since that time, OLLI at Penn State York has continued to grow with a variety of daytime courses, bus trips, travel trips, walking tours and other exciting activities.
Annual membership in OLLI is $50 and members pay $8 for a single-session course; $16 for a two-session course, and so on. Nonmembers pay $20 for a single-session course; $40 for a two-session course, etc. Some courses are not open to nonmembers and prices vary based on the length of the course.
OLLI is a nonprofit, mostly volunteer-driven organization, established to enrich the lives of mature adults living in York County. OLLI at Penn State York is one of more than 125 lifelong learning institutes across the nation that is supported by a grant from the Bernard Osher Foundation. The grant was made available locally through Penn State, which has OLLI sites at its University Park and York campuses.
For more information about OLLI, call 717-771-4015 or visit the OLLI York website.