Liz Herrera Reynoso honored with Student Leadership Award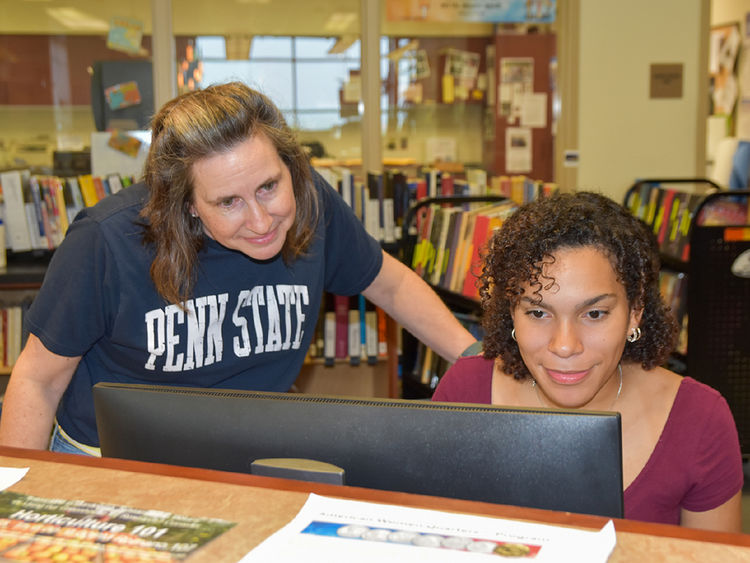 YORK, Pa. — The people are Liz Herrera Reynoso's favorite thing about being a part of the student staff in the Lee R. Glatfelter Library at Penn State York, she said. Reynoso recently was chosen as the recipient of the Outstanding Student Employee Award – Student Leadership Award, a University-wide recognition given by Penn State University Libraries.   
"She is a remarkable young woman whose leadership and innovation have raised the bar for several of her fellow student employees. She is truly a mentor and is welcoming to everyone she meets," said Dawn J. Oswald, information resources and services supervisor in the Lee R. Glatfelter Library at Penn State York, who nominated Reynosa. "To consider Liz a go-getter is truly an understatement. She has a genuine interest in making things better for those around her and doing her part to achieve goals she feels passionate about pursuing."
A junior majoring in human development and family studies with a minor in psychology, Reynoso first started working at the library in 2020 while participating in the Pathways to Success Summer Start Program (PaSSS) in York.  At that time, the program provided incoming students with an early start to their college careers and included an optional campus job opportunity. She chose to work in the library.
"I started working in the library during the pandemic so there were not too many in-person activities to do, but the library gave me the opportunity to meet amazing people and learn more about the campus," remembered Reynoso. "Because of the library, I was introduced to opportunities such as the Graham Fellows Program for Entrepreneurial Leadership and becoming an orientation leader on campus."
Reynoso, age 20, has a variety of responsibilities at the library. Her duties range from checking out materials for patrons to making posters for upcoming events in the library.  Her favorite task, she said, is making the shipments for UPS, because she enjoys trying to organize the books perfectly into the box.
She chose her career path because she is passionate about working with and advocating for underserved youth and young adults, she said.
According to Oswald, Reynoso's care, dedication and compassion are shown through every aspect of her position at the library.
In addition to working in the library, Reynoso is an active part of the campus community.  She is a prominent member of the Lion Ambassadors, Penn State York Benefiting THON, the University Programming Board, and served as the vice president of the Student Government Association (SGA) at Penn State York. As part of her work with the SGA, Reynoso led the charge to make sure accessibility services for people with disabilities are installed or repaired throughout the campus. She also advocated for increased mental health services and programming on campus. In addition, she is a peer tutor in psychology at the Nittany Success Center.
In the midst of all of this, Reynoso found time to be a part of the Graham Fellows Program, where she has the opportunity to make connections with members of the business community and gain knowledge to help prepare her for a successful career.
Four outstanding student employees throughout the commonwealth receive the University Libraries Award each year.  The Student Leadership Award recognizes a student who demonstrates a commitment to leadership among their peers and various library departments. The recipient is considered to be an imaginative leader dedicated to supporting and promoting the values of University Libraries. Reynosa received a certificate of excellence and a stipend of $250. This is the second consecutive year that a student from York was selected for this award; Madison Forbes, who graduated in 2022, earned the award last year.
Luckily for the library and all those who visit, Reynoso will return to her senior year at Penn State York and her job at the library in the fall.