National honor society recognizes achievements of adult learners in higher education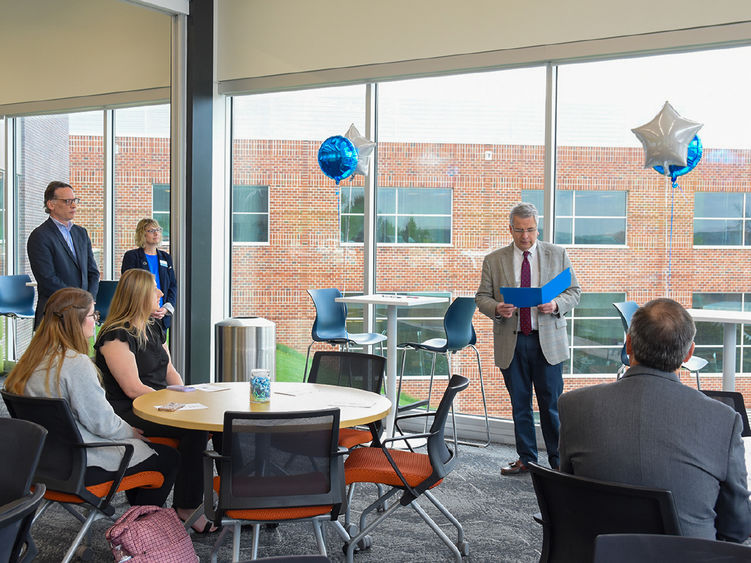 YORK, Pa. — Four outstanding adult students were inducted into the Penn State York Chapter of Alpha Sigma Lambda (ASL) during a ceremony on Tuesday, April 18, in Polli Hall of the Graham Center for Innovation and Collaboration on campus. ASL is a national honor society that recognizes the unique achievements demonstrated by adult students in higher education programs.
The York students inducted into ASL this year were Jasmine Cross, Cory Klinedinst, Monroe Mumma. and Ryan Snell.
View photos from the ceremony on Flickr.
Jasmine Cross
Jasmine Cross was born in Baltimore, Maryland, and moved to Red Lion, Pennsylvania, with her family when she was in elementary school. Cross graduated from Red Lion High School and attended Harrisburg Area Community College, where she earned an associate of science degree in psychology. 
She transferred to Penn State York in the summer of 2021 and will graduate this August with a bachelor of science in psychology. Cross will start graduate school this fall to earn a master's degree in psychology. Her goal is to become a licensed professional counselor. 
Cross is a first-generation college student who currently lives in Windsor, Pennsylvania, with her fiancé, Jaiden, and their chocolate lab, Dax. Some of her interests include watching movies, hiking and eating sushi.
Cory Klinedinst
Cory Klinedinst was born in Hanover, Pennsylvania, where he currently lives and works. He earned an associate degree in mechanical engineering from Penn State York in 2017 and is now pursuing a bachelor's degree in electro-mechanical engineering technology. 
He will celebrate 10 years of marriage to his high school sweetheart this year. He has a 6-year-old son who plays soccer and flag football — interests that clearly connect with Klinedinst's penchant for sports, fitness and spending time outdoors. 
Monroe Mumma
Monroe Mumma was born in Harrisburg, Pennsylvania, and graduated from Dauphin County Technical School, where he studied automotive technology. After graduation, he went directly into the workforce at an auto dealership. 
After several years working in the automotive industry, Mumma started studying part time at Harrisburg Area Community College and then transferred to Penn State York in fall 2019 to pursue a degree in electro-mechanical engineering technology. 
He has been married for nearly 26 years to his wife, Ina. He has three children: two daughters, Isabelle and Olivia, who are both college students; and one son, Dominic, who is a senior in high school. His family also includes two golden retrievers, Ginny and Milo. In his free time, Mumma enjoys bicycling, skiing, tinkering, electronics and 3D printing.
Ryan Snell
Ryan Snell was born in York, Pennsylvania, and graduated from the York County School of Technology, where he studied homeland security. He then enlisted in the U.S. Navy and was stationed at Fort Meade, Maryland, for four years.
Snell is currently pursuing a degree in psychology with plans to attend law school following graduation. His passions include history, aviation, philosophy, law and theology. He dedicates his free time to learning about World War II, the U.S. Civil War, or watching baseball. He did not attend the ceremony.
About Alpha Sigma Lambda
Alpha Sigma Lambda's aim is to recognize the special achievements of adults who accomplish academic excellence while facing competing interests of home and work. ASL encourages many students to continue toward and to earn associate and baccalaureate degrees.
Student members must have completed a minimum of 24 graded semester hour credits, or the equivalent, and must be matriculated students in an undergraduate degree program in an institution that is regionally accredited in the United States or recognized by the ministry of education of the country in which the program operates. These college credits may not include transfer credits. All 24 credits must be taken through and graded at the matriculating institution and must be included in the student's cumulative grade-point average (GPA).
At least 12 of a student's total credits should be earned in courses in liberal arts/sciences, not including applied arts/sciences courses. Accepted transfer courses may be added to the 24 credits earned at the institution until the liberal arts/sciences requirements are fully satisfied.
Student members are selected from the highest 20% of the students who have 24 graded credits and are matriculated in an undergraduate degree program.
Student members selected must meet minimum GPA requirements from their institution. The cumulative scholastic record of the student, as interpreted by the institution where membership is to be conferred, is the basis for computing scholastic eligibility.
Through leadership born of effort, both scholastically and fraternally, Alpha Sigma Lambda inspires its candidates to give of their strengths to their fellow students and communities through their academic achievements.