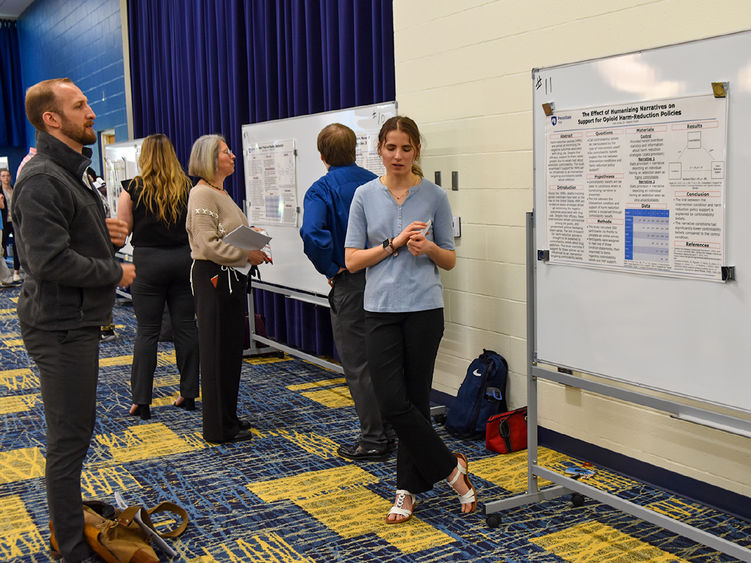 The Penn State York 2023 Exhibition of Undergraduate Research and Creative Accomplishments featured 29 projects and took place on April 11. Four winners were chosen based on the information literacy demonstrated through:
Showcasing the research process and strategies
Selecting sources that contribute to the argument and ideas
Including proper citations for quotes, images, and other content displayed
Each winning student receives a $125 award. The winners are:
Gavin Franz
"Rejecting the Endless Now of Xenoblade Chronicles 3"
Research Category: English
Faculty Mentor: Jennifer Nesbitt, Ph.D.
According to Franz's research, two of the most common criticisms of video games are:
Glorified violence – Many academics have cited examples of video games serving to propagate military recruitment or perpetuate a pro-war narrative.
Escapism – It is often said that playing video games can serve as an unhealthy escape from reality.
Franz argues that Nintendo's Xenoblade Chronicles 3 turns both of these problems on their heads. The game offers players a self-aware experience that demonstrates the futility of war and even cautions against the desire for a never-ending gaming experience. By introducing a concept referred to as, "Endless Now," the game weaves these themes directly into the game-play itself, prompting players to question the purpose of violence and escapism.
Greta Garman
"Bear Thy Yoke"
Research Category: English
Faculty Mentor: Jennifer Nesbitt Ph.D.
Although the literary work of Charlotte Perkins Gilman is most often associated with the feminist movement, Garman found a different theme in the author's short story, "The Boys and the Butter" (1910). Garman argues that when the aunt in the story offers her nephews money to give up butter, but pays them with a church membership instead, the boys are deprived of both pleasure and choice. She examined the story's themes through the lens of historical texts on parenting and essays about the American missionary movement, ultimately drawing insights on the effects of religions strictures on the parenting of young children and social progress of the 20th century.
Jasmine Cross
"The Dark Triad and Doxing Behaviors"
Research Category: Psychology
Faculty Mentor: Stephen Foster, Ph.D.
Doxing involves the search and distribution of personally identifying information online, often with the intent of threatening or harassing an enemy or target. Cross's research project examined the traits of doxing behavior in comparison to Dark Triad traits of Machiavellianism, narcissism and psychopathy. Her goal was to see if the Dark Triad could be used to predict doxing behaviors in contexts including:
Humiliation
Pranks
Political disagreement
Race-related threat
Romantic relationship conflict
Her findings supported the hypothesis that Dark Triad traits could be linked with doxing outcomes. The mediating role of empathy could also explain such links.
Katy Jones
"The Impact of Personal Narratives on Support for Harm Reduction Policies"
Research Category: Psychology
Faculty Mentor: Stephen Foster, Ph.D.
According to Jones' research, the rise of opioid dependence has increased the need for harm reduction policies. These policies are intended to minimize injury, illness, and death in populations facing heroin or opioid addiction, but are often met with scrutiny due to the stigma surrounding substance abuse disorders. Through her research project, Jones wanted to find out if portraying lived experiences of individuals who struggle with addiction might improve public support for harm reduction policies. According to her findings, there is strong potential to use personal stories to improve perceptions of opioid addiction to secure favorable legislation and treatment options for people recovering from substance abuse.
For more information about the Exhibition of Undergraduate Research and Creative Accomplishments, please contact Robert Farrell, director of academic affairs and professor of biology at Penn State York, at [email protected]. For information on the awards, please contact Barb Eshbach, head librarian at the Lee R. Glatfelter Library on campus, at [email protected].