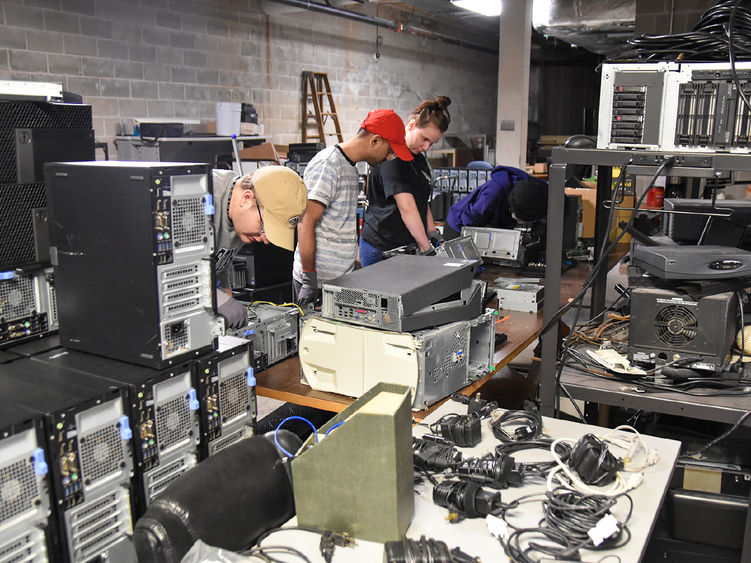 YORK, Pa. — Members of the Penn State York community are invited to bring their unwanted electronics to the Multi-Activity Court (MAC) in the Joe and Rosie Ruhl Student Community Center on Monday, April 24 from noon to 1 p.m. for the first-ever Students for Computer Recycling to Outfit Underrepresented Groups in Education (SCROUNGE) Earth Day event.
What is the SCROUNGE Earth Day event?
On Earth Day, SCROUNGE will encourage participants to socialize, eat some pizza, and learn how to properly recycle their old electronics.
Ean Dudley, SCROUNGE president explained, "During the Earth Day event, participants will get an opportunity to get hands-on with the process of recycling electronics — specifically computers — to better understand the process that SCROUNGE goes through to prepare these computers for recycling. Participants can also learn about how electronics waste impacts our world and they'll be empowered to make a difference."
Penn State York's Cybersecurity Club, one of the newest clubs on campus, has partnered with SCROUNGE to make this event possible. Participants will have the opportunity to meet the leadership and current members of these clubs and learn how they can get involved. Finally, individuals in the Penn State York community will have a chance to bring in their own electronic waste and SCROUNGE will recycle it for them.
What kinds of devices should participants bring to the event?
All electronic devices, such as computers, TVs, monitors, cell phones, batteries and wires should be recycled and will be welcomed at the event. Many electronic parts can be repurposed or recycled — just like a tin can or other commonly recycled product. The difference is that electronics need special handling and should not be put in a standard recycling bin. That's where SCROUNGE comes into the recycling process.
The members of SCROUNGE know how to separate the components of computers and sort them based on the type of metal that component is made of — whether it's steel, iron or copper.
What is SCROUNGE?
SCROUNGE is one of the longest continuously running clubs at Penn State York. Through the club, students refurbish, repurpose, and donate computers and other electronics to local nonprofit organizations. Any computers that cannot be repurposed are scrapped and recycled.
The mission of SCROUNGE is threefold:
Bridge the digital divide – The club uses their expertise and donated devices to make technology more accessible to underrepresented populations.
Protect the environment – Recycling electronics can reduce: carbon emissions generated by manufacturing new products, environmental damage caused by extracting limited virgin resources, and pollution from dumping toxins into landfills.
Strengthen relationships – Students in SCROUNGE meet new people, foster friendships, develop new skills and connect with the local community.
Some electronics, especially batteries, may contain toxic substances, such as lead and mercury, that can seep into the soil if dumped in a landfill. By providing a way for people to safely dispose of their unwanted electronics, SCROUNGE helps to keep these harmful materials out of the environment and, in some cases, reduces the need to mine for new materials.
What are SCROUNGE'S goals for the future?
While this is the club's first Earth Day event, the leaders of SCROUNGE hope to run the event annually and incorporate more student organizations.
Dudley said, "This is the first time in SCROUNGE's history that we have brought our internal recycling process to the general campus population, rather than just our members. This evolution is part of SCROUNGE's wider goal of redesigning its business model and taking a proactive approach to recruitment and donating."
For more information about SCROUNGE or the Earth Day event, please contact James Oplinger, SCROUNGE's club adviser, at [email protected].