Penn State York students majoring in human development and family studies continue the tradition of a vigil event that started in 2011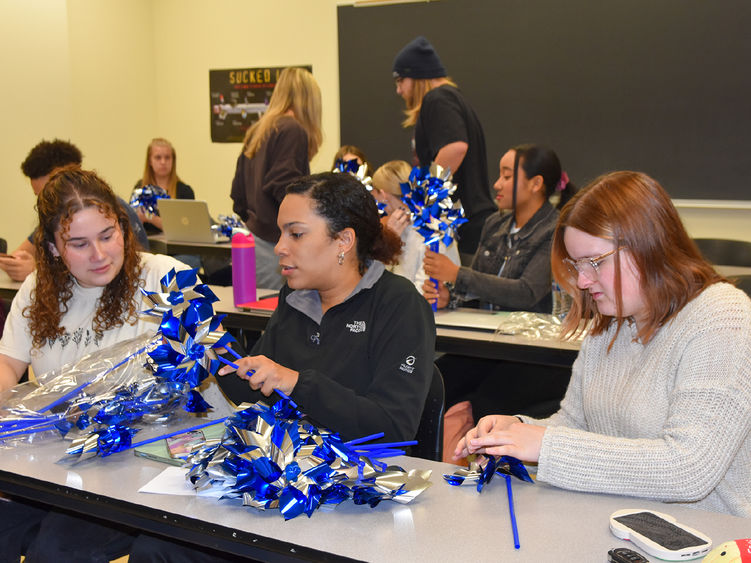 YORK, Pa. — Child abuse and child neglect prevention is the focus of a program and candlelight vigil set for 12:15 p.m. on Wednesday, April 5, at Penn State York. Students in the Human Development and Family Studies (HDFS) Club and those taking HDFS 315 (Family Development) taught by Sonia Molloy, assistant professor of HDFS, are once again preparing for an event focused on awareness and prevention of child abuse. This event has been happening each year since 2011, with the exception of 2021 due to the pandemic.
The program, in the Precision Custom Components (PCC) Community Room in the Joe and Rosie Ruhl Student Community Center (The Ruhl Center), is free and open to the public.
In the fall of 2011, students made plans to hold an event in November to raise awareness about child abuse and provide information about prevention. Since that time, a vigil has taken place annually. The vigil was moved from fall to spring to align with Childhood Abuse Awareness Month in April.
"This year, we chose to center the event around neglect because it is a form of child abuse that is often not thought of or talked about," said Lena Pham, president of the HDFS and one of the event organizers. "Parents with limited resources due to economic stressors and mothers dealing with postpartum depression are instances where child neglect is more likely to occur. Our hope is that this event will not only bring awareness to this issue, but that it will also show people ways to support agencies that address neglect and how to help provide resources for those who have been affected," she said.
Pham noted that HDFS students have been working together in planning committees to lead various aspects of the vigil since the start of the spring semester.
"We are very proud and excited to be a part of this amazing tradition at Penn State York," she said.
Pham will open the program and introduce Amanda Katchur, a licensed psychologist, who will speak on postpartum mental health. Katchur is a program coordinator for school-based outpatient therapy at the Community Service Group in Lancaster, and is a Touchstone Foundation board member. She has a special interest in school-based mental health and in perinatal mental health. She will share information about the impact postpartum depression can have on mothers and fathers that could lead to neglect or abuse of children. Olivia Miles, an HDFS student, made the connection with the speaker to bring her to campus.
As part of the program, students are focusing the event on prevention of neglect by spotlighting postpartum mental health for mothers and fathers. To help lessen the mental load of stress that is associated with limited resources, students are collecting diapers, wipes, and new children's clothing and involving the campus community. The donations are to be given to Women Infants and Children (WIC) through the Community of Hope at Hannah Penn Middle School. Students placed donation boxes throughout the campus earlier in March and will also be collecting items at the event. Community of Hope is a family resource center where staff work with neighbors to provide access to health care needs, computers, clothing and household items, and coaching support. Lyndsey Ridenour, an HDFS student, has organized this drive.
Following the speaker, Chuck Thompson, an HDFS student, will lead the vigil.
Participants will light a candle and are invited to say the following pledge: "Every child has a right to grow up free from the shadow of abuse. I believe that the responsibility to protect children rests solely in adult hands. I believe that, as adults, we must remain ever vigilant and dedicate no less than the best of ourselves to that purpose. To all the victims of abuse, male and female, adult and children, known and unknown: I pledge to educate myself about the realities of child abuse; I pledge to give a voice and report any and all suspicions; I pledge to cast a light in the darkness by doing the right thing the first time, every time."
The program will conclude with a moment of silence and then students will place 250 pinwheels in the grass outside the student center. Pinwheels are the national symbol of child abuse prevention.