Lunch and learn set for April 3 featuring Bill Cantor from Penn State York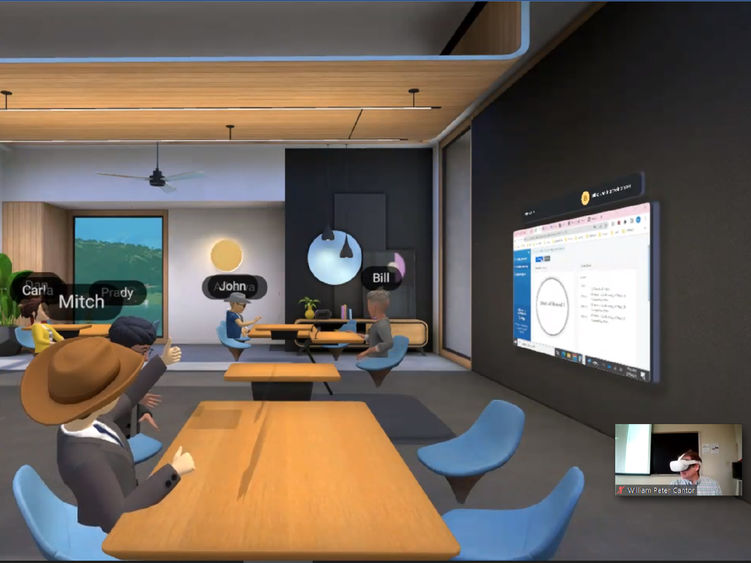 YORK, Pa. — Penn State York students along with their peers at Abington and Harrisburg had the opportunity to be a part of a pilot program in MIS 404 (Introduction to ERP and Business Processes) where Virtual Reality (VR) headsets were used for a portion of the course.  Bill Cantor, assistant teaching professor in information sciences and technology at Penn State York, taught the course on the Digital Learning Cooperative and will give a lunch and learn presentation on Monday, April 3 at noon to share his experience.
Register for the lunch and learn presentation here.
Cantor, along with his students on campus and remote, piloted the use of Meta Quest 2 VR headsets with Horizon Workrooms during the spring 2023 semester with the help of the Video Commons. The course is still in session. Students continue to work on cross-campus teams and use meeting room software so that they can virtually be in the same room as their team even though they are on different campuses. Students participated in lectures and then worked in teams in the virtual classroom.
"I think using a VR headset was really a unique experience and something I had never done in an educational setting," said Atharva Parag Chopde, a Penn State York student. "I can see future classes being done in VR although we would need to get used to it." 
He also noted that collaborating with teammates worked well and that using his own personal computer while on VR worked great. Other students mentioned the preference for virtual reality classes over just Zoom and noticed an increase in engagement levels during class. One student also said, "Instead of a conventional class with students facing the professor, VR provided a more collaborative and immersive experience with a lot of tools to utilize as well. The coolest thing is that we could make our own custom offices, classrooms, and avatars on any location."
Cantor is part of the Media Common's Immersive Headset Pilot Program for spring 2023 and looks forward to using this technology.