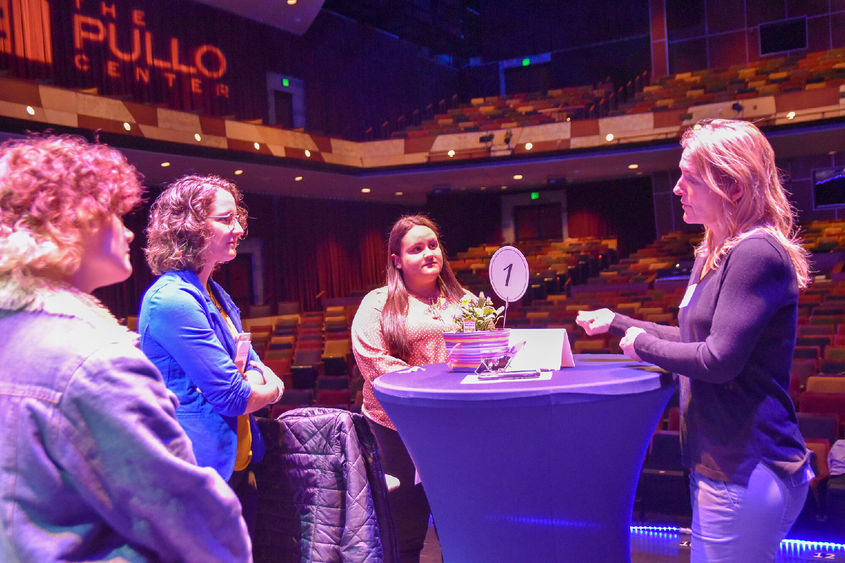 YORK, Pa. — Students and alumni of the past five years will get the chance to participate in a different career-focused event each day beginning Monday, March 27, as part of Career Week at Penn State York. The goal of the week is to provide participants with a broader perspective of career paths and a better handle on effective networking techniques.
Monday, March 27 — "What You See is What You Get"
Find a fulfilling career with a Liberal Arts major of any kind.
12:15 p.m., Rehearsal Room, Pullo Family Performing Arts Center (The Pullo Center)
No Registration Required!
Tuesday, March 28 — "Drop-In Career Counseling With LeighAnn Fry"
Get help at any stage of your career journey.
11:30 a.m.-1 p.m., Advising and Career Development Office, Main Classroom Building
No Registration Required!
Wednesday, March 29 — "Ditch the Pitch and Start Networking Workshop"
Prepare for the career networking event through this hands-on workshop.
12:15 p.m. — Polli Hall, Graham Center for Innovation and Collaboration
Thursday, March 30 — "The Career Networking Event"
Connect with industry professionals including Penn State alumni.
12:00 p.m. — Theatre Stage, The Pullo Center
Friday, March 31 — "Information Sciences and Technology (IST) Dinner/Networking Social"
Enjoy a meal with IST professionals as they pass the mic to share stories.
5:30 p.m. — Heritage Hills Golf Resort
College students are often faced with questions about what they want to do or who they want to be. The team at Penn State York helps to guide them.
"We help students develop strategies to answer questions for themselves, find what they are passionate about, and what they truly want to do," said LeighAnn Fry, career services coordinator. "It could be completely outside of their major and that's okay."
Not a Career Fair
Although internship and job opportunities do sometimes emerge naturally through the relationships sparked at Thursday's Career Networking Event, the primary purpose is to help students explore their interests, discover potential trajectories, and grow more comfortable speaking with industry professionals.
"This is not a career fair," said Iona Conlon, Penn State York's alumni relations/stewardship officer. According to Conlon, industry representatives are not seeking new recruits but rather strive to offer advice and insights they often wish they'd had when they were first entering the workforce.
"We encourage students to get out of their comfort zone and talk to different industries. Students are often surprised by how their goals shift when they ask smart questions to find out what the job is really like. Now is the time for students to be curious, keep an open mind, and discover what inspires them," Conlon said.
Develop Networking Skills
"New this year is the pitch event on Wednesday that helps prepare students with the networking skills needed for Thursday's event," Conlon said. "They're going to learn about their 30-second pitch. It's a workshop, so they will come out knowing how to present themselves in a short period of time."
Students are encouraged to attend as many events as they can, but the Wednesday workshop is a great chance for students to boost their confidence leading up to Thursday's networking event, where the connections they make could potentially foster professional growth over time.
"We want students to practice the skill of networking," said Fry. "So, learning how to walk around a room of people that they've never met before, shake a hand, look someone in the eye, and be able to articulate the skills and qualifications that they have."
Regardless of their major, knowing how to network and feel comfortable in professional settings are skills that can extend far beyond college.
Valuable At Any Stage
Career Week events are valuable to Penn State York students at any stage of their degree — including those who have graduated within the past five years. Whether they are still choosing a major, developing a resume, or securing a job opportunity, each session can bring students closer to achieving their goals.
Outcomes
Many students have gone on to medical school or sought internships in unexpected fields after attending one or more events as part of Penn State York's Career Week. Participation is not required but is strongly encouraged.
For more information, please email Iona Conlon or call 717-718-6781, or email LeighAnn Fry, or call 717-718-6701.