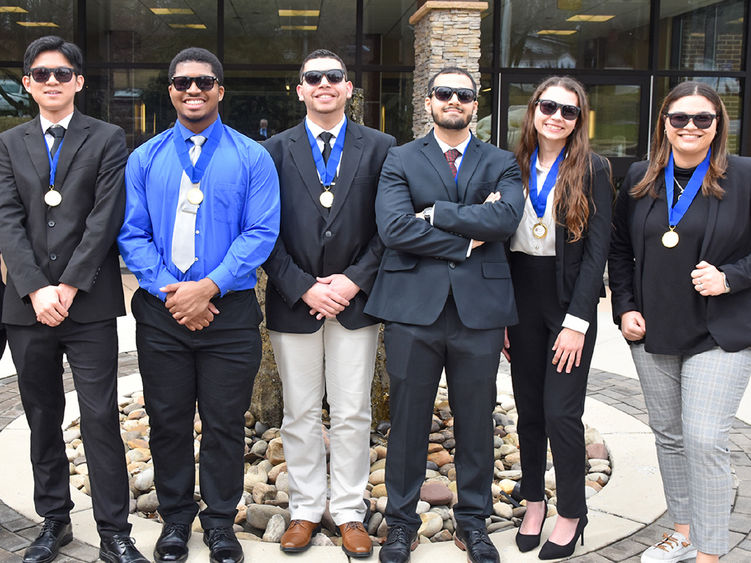 YORK, Pa. — Penn State York students in the Future Business Leaders of America (FBLA) chapter on campus once again participated in the Stock Market Game hosted by the Securities Industry and Financial Markets Association and earned second and third place finishes at the national level.
Two three-person teams participated throughout the fall semester, under the guidance of Megan Lorenz, FBLA adviser and lecturer in business administration at Penn State York, and gained a better understanding of the ups and downs of the market and how it works.
"These students worked together for 12 weeks as a team managing an investment portfolio competing against other colleges in the country. It is amazing to have two teams finish in the top three for the fall 2022 semester," said Lorenz. "This experience not only taught the students about successful investing but has even enticed some of our students to become finance majors."    
Second-place award winners were Isaiah Morales, Lawrence Williams, and James Ye, and third place went to Omar Elhasany, Nakhaiya Jacobs, and Rebecca Mauck.
The Stock Market Game provides participating students opportunities to manage a financial portfolio that mimics the real-time volatility of the actual stock market. The challenge to teams was to grow their financial portfolio more than the other participants in the competition.
Throughout the semester-long competition, all six students followed the stock market and did research to gain a better understanding of how it operates. In addition to performing well and earning recognition, the students received a swag bag, medals and certificates in recognition of their win.
Last year, in the campus' first year of competing in the Stock Market Game, the Penn State York team took first place.
David Christiansen, chancellor of Penn State York; Ryan Dellinger, FBLA president; Kaitlan Hevener, FBLA vice president of finance; and Lorenz presented the medallions and certificates to the group on March 2.