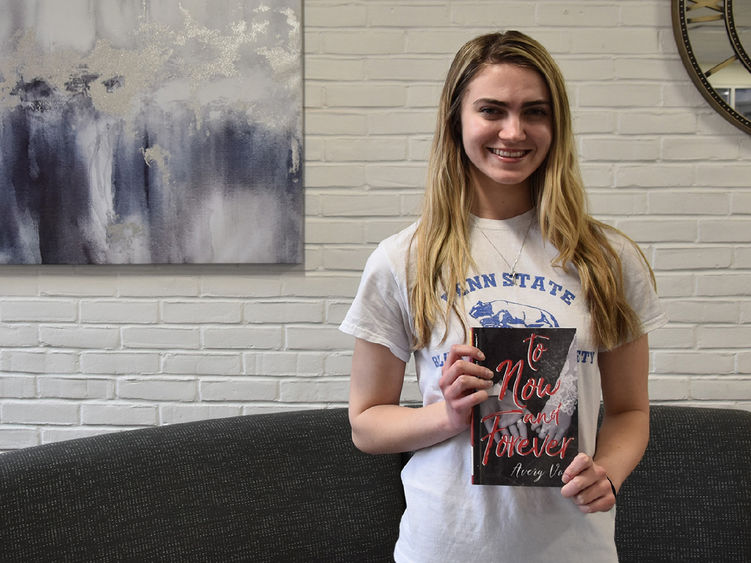 YORK, Pa. — When Avery Volz was too young to even talk, her father, an English teacher, would read to her from a book of Shakespeare's complete works. Some of her earliest memories are sitting in her father's lap while he read "Goodnight Moon," "The Carrot Seed," and (perhaps most influentially) "Princesses are Not Quitters."
"I have always felt a connection to people through stories. My dad taught me that," said Volz. So, it's no surprise she began writing at a young age.
By the time she reached 17 years old, she had completed a draft of her first novel — an epistolary tale between an older woman and her children as she watches their struggles and shares her experiences with them.
"It's a story about relationships and how they shape the person you become," Volz explained.
Two Books in One
The original draft was more than 430 pages long, so her publisher recommended splitting the story in half. That way, she could launch her debut novel, become published with multiple works, and establish her fan base.
While both of her books, "To the One I Love" and "To Now and Forever," were originally meant to be one story, splitting them in two allowed her to slow down and develop her characters, diving more deeply into each scene.
"I'm 20 years old now, so it was difficult to revisit something I wrote at 17," said Volz, "but I took my first creative writing class here as a freshman. Professor Noel Sloboda has strengthened my writing and helped me develop an appreciation for character that I didn't have before."
When writing a new story, Volz doesn't like to plan too much. Instead, she uses only basic outlines and focuses on developing the characters more than the plot.
"If you understand your characters and allow them to react naturally to situations, the story writes itself." She described the value that this approach brought to her second book throughout the revision process.
Reception So Far
Her books have technically been released under the young adult romance category, but Volz aims to connect with audiences of all kinds.
To celebrate the launch of her second book, her grandmother hosted a release party for family and friends. At the event, one of her grandmother's friends tearfully described how well she was able to relate to the story and how moved she felt by it. That moment cemented Volz's desire to reach a broad audience through her work and help them examine their own emotions, relationships and experiences.
On the Horizon
Volz is majoring in psychology at Penn State York and plans to pursue a doctoral degree in clinical psychology so she can work closely with psychiatrists to treat patients who are struggling with mental health disorders, while also conducting research to improve existing treatments.
"I have struggled with my mental health and people I love are struggling with it," Volz said. "There is still stigma around mental health issues and the current strategy for treatment is not adequate, so I am going to change that."
Her passion for mental health awareness and her study of human behavior has enhanced her appreciation for human beings. Her passion and understanding are evident in her writing. Being inspired by romance and brain science uniquely situates her work to help people through hard times.
"The themes in my work are no matter who you lose, you are going to be okay. Pain is temporary, and if I can help one person feel better or get through a tough time, then I've done my job. I was going through a difficult time when I wrote these books. Writing them was a way for me to cope with the situation and reading has always served as a healthy escape," said Volz.
She has moved past the thoughts and feelings she had when she began writing these two books. Now that her second book has been published, she believes that she can close this chapter and is looking forward to what comes next. She already has her third novel in the works.
Where to Read
Both of Volz's books are available for purchase on Amazon.com and Barnes & Noble.  Readers may also borrow both titles from the Lee R. Gladfelter Library on campus.
Penn State York is hosting two upcoming events where audiences can hear the young author read excerpts from her work and speak on their development: 
Friday, March 31
Ask the Authors 
12:15 p.m. in the Lee R. Glatfelter Library at Penn State York
This event also features Brynn MacDonald, another student author.
Friday, April 14
"Any Other Word" Celebration of Creative Competition Prize Winners 
12 p.m. in the Lee R. Glatfelter Library