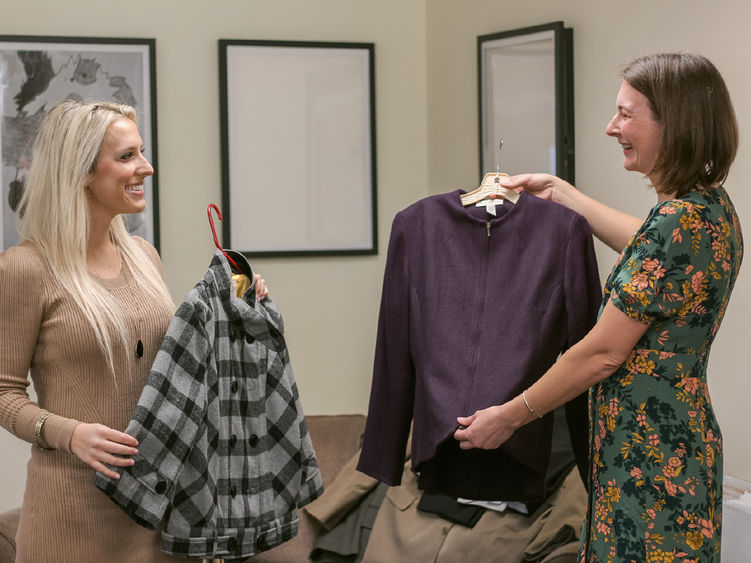 YORK, Pa. — One word defines the YWCA of Harrisburg's Dress for Success program: transformation.
"Our hope is that students leave feeling transformed," said LeighAnn Fry, career services coordinator at Penn State York. "We want students to have the experience of feeling confident and comfortable."
The Dress for Success program is an event hosted by the Suits to Careers organization from the YWCA of Harrisburg, where professional attire is brought for students who are preparing for internships, job interviews, and other formal settings. When signing up, students are asked to send their measurements and provide information on what occasion they are seeking professional clothing for. Once received, the suitors bring gently used business attire in a mobile unit for registered students to try on. The mobile unit is coming to Penn State York and suiting the students on Thursday, March 23.
"The suitors will give students three complete outfits for three complete workdays, which is fantastic," said Carly Wood, Nittany Scholars Program coordinator. "The clothes they provide are always a nice quality."
The event was not always available to all Penn State York students. The Dress for Success suiting event began coming to campus in the summer of 2022 exclusively for students in the Nittany Scholars Program, followed by another event in November 2022; however, after receiving funding from the Student Activity Fund, Fry and Wood were able to open the event to all students.
"The response rate was extremely quick and high among the general student body," Fry said. "This showed us the strong need for an event like this."
Fry received so many responses that she had to close registration and start students on a waiting list due to limited capacity in the suitors' mobile unit. According to Wood, they are currently working to figure out a way to accommodate the students who are waitlisted." The YWCA in Harrisburg has a location people can go to and shop for clothes," Wood said. "We are considering organizing a possible trip there to help support the waitlisted students who also want and need this opportunity."
The YWCA in Harrisburg is not the only organization supporting this suiting event; the Women's Philanthropic Network at Penn State York has also contributed funds and donations to support the Dress for Success event later this month. This is the first year that the WPN has given the Nittany Scholars Program and Advising and Career Development a grant to help expand the occasion to all Penn State York students. Di Hershey, founder and member of the WPN and the director of development at Penn State York, has overseen the WPN's contributions to the campus; not only has she aided the collection of funds from the WPN, but she has also collected donated gift cards from department stores that have professional attire so students can grab something extra.
"We wanted to help provide transformational experiences for students here at Penn State York," Hershey said. "If we get to add at least one more piece to the transformational experience, we will have done our job."
Although this is the first year that Penn State York will have a campus-wide Dress for Success event, it is not going to be the last.
"First impressions and stepping inside the door to an interview, an internship, a first day on the job wherever is so important," Fry said. "We want students to leave feeling ready and confident. There were so many things we wanted to do for this event but couldn't, like hire a tailor to do some on-the-spot adjustments, but we plan to do something like that in the future so students get an even fuller experience."
Any further questions, concerns, or requests regarding the upcoming Dress for Success event on Thursday, March 23, may be sent to LeighAnn Fry at [email protected] or Carly Wood art [email protected].