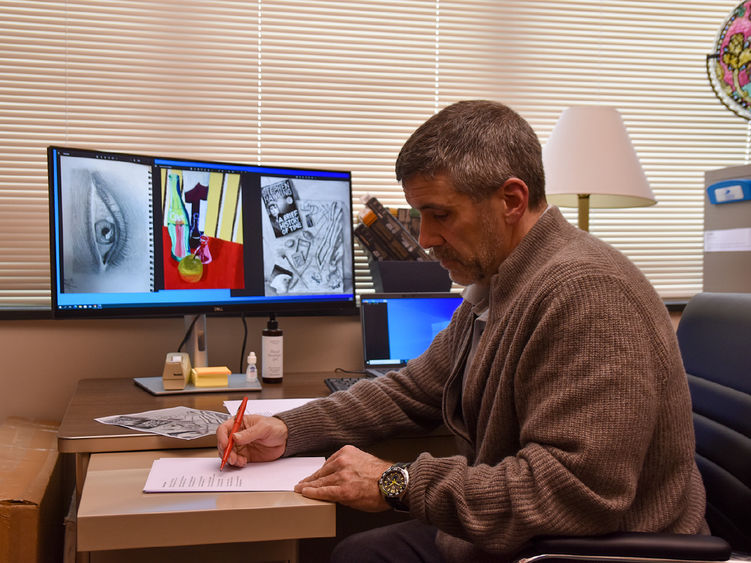 YORK, Pa. — Students at Penn State York are being recognized for their creative expression thanks to the Penn State York Literary Competition sponsored by the Pullo Family Performing Arts Center (The Pullo Center) and Any Other Word, the campus' online literary magazine.
"It's challenging to make award decisions when you have to exclude so many worthy submissions," said Noel Sloboda, associate professor of English at Penn State York and competition judge. "The works selected this year resonate with vibrancy, and they show that creativity is thriving at Penn State York."
Sloboda is thankful for the support of The Pullo Center in making this competition possible.
Three prizes are being awarded in three categories: fiction, poetry and visual art (magazine cover art).  Amazon gift cards are being awarded to each winner: first place is $75, second place is $50, and third place is $25.
Winners in their categories are:
Visual Art
Jordan Wolf – first place
Zoe Christine Snell – second place
Mary Frances Dizor – third place
Fiction
Avery Volz – first place
Gavin Franz – second place
Isabel Jungclaus – third place
Poetry
Brynn MacDonald – first place
David Lin – second place
Ben Levalley – third place
Selected works will be published in the upcoming issue of Any Other Word, which will feature Jordan Wolf's work as the cover art.
Public reading
A public reading of these works is set for 12:15 p.m. on April 14 in the Lee R. Glatfelter Library on campus. Excerpts from prize-winning selections, or whole selections, will be read by the campus' talented poets and fiction writers. Visual works also will be on display.