Barberama to donate 20% of sales on Black Friday to benefit children battling pediatric cancer and gift cards are included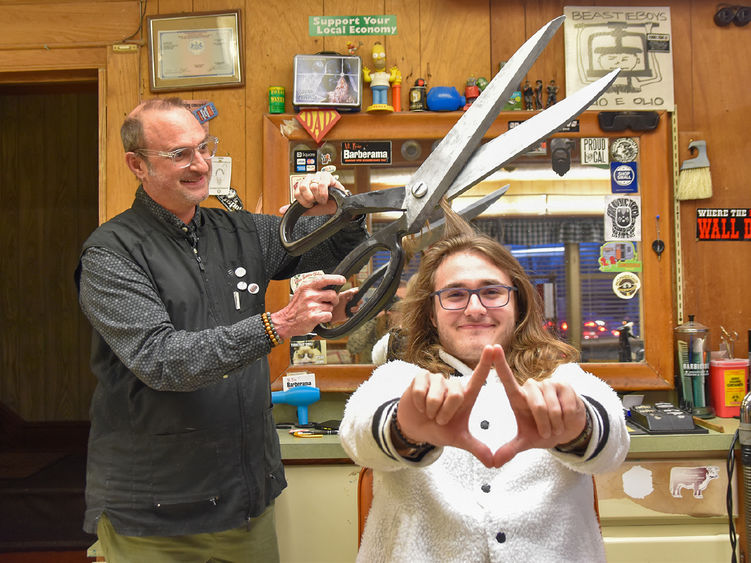 YORK, Pa. — Visit the Barberama in York, Pennsylvania, on Black Friday (Nov. 25) and 20% of your purchase, including gift cards, will be donated to Penn State York Benefiting THON.
Dominic Sciortino, a freshman at Penn State York majoring in psychology, is part of the York campus THON group, and it was his idea to approach his dad, the owner of the Barberama, about a fundraiser for THON.
"I decided to do this because THON is doing great things with helping children with pediatric cancer," said Dom Sciortino. "It is the least I can do."
Those who visit the Barberama, 1160 Mt. Rose Ave., in York, can help raise money for THON through their purchases of everything from haircuts and other services to gift cards. The event is from 8 a.m. to 4 p.m.
Fundraising efforts for the campus THON committee to date have included dine-outs and a chocolate sale.
Two members of the York THON group will be selected to represent Penn State York Benefitting THON based on a variety of criteria, including participation in fundraising and other activities for THON. THON is the largest student-run philanthropy in the world, and the weekend dance marathon, Feb.17-19, 2023, is the culmination of yearlong fundraising efforts.
York's dancers will join more than 750 pairs of dancers who will not be sitting or sleeping for the entire weekend. In fact, the dancers will be on their feet for 46 hours to raise funds to support innovative and sustainable pediatric cancer research at Penn State Hershey Children's Hospital. Since pairing in 1977, THON has raised more than $204 million for the Four Diamonds Fund, its sole beneficiary.
The Penn State IFC/Pan-Hellenic Dance Marathon, or THON, is the largest student-run philanthropy in the world. THON is a year-long effort which raises funds and awareness for the fight against childhood cancer. With the support of students from across the commonwealth and supporters all around the world, THON continues to make great strides towards finding a cure for childhood cancers.
THON is committed to enhancing the lives of children and families impacted by childhood cancer. Their mission is to provide emotional and financial support, spread awareness, and ensure funding for critical research — all in pursuit of a cure. 
There is still time to donate to THON and help Penn State York reach its monetary goal! 
Please plan to donate online at:
https://donate.thon.org/?fuseaction=donorDrive.event&eventID=2967. This link goes directly to a page for Penn State York Benefiting THON.
Checks in support of THON should be made payable to Penn State Dance Marathon or THON, and sent to: Penn State York, 1031 Edgecomb Ave., York, PA 17403, or drop the check in Barb Dennis' mailbox in the mailroom no later than noon on Feb. 15, 2023.  
Be sure to note 'York, Org. 170' in the memo line of your check. Online donations can be made until midnight on Saturday, Feb. 18, 2023.