Four Penn State York student groups work with the Impact Foundation to make a difference for local students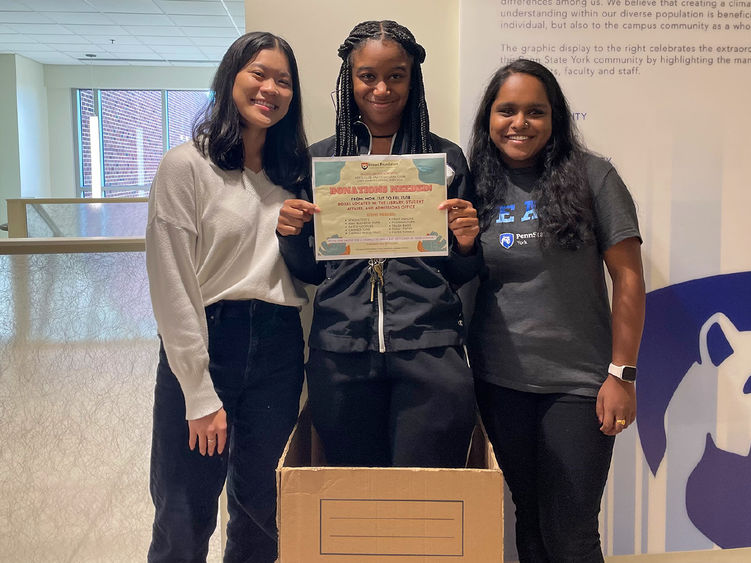 YORK, Pa. — "Students helping students" are the powerful words behind the Impact Foundation of the York Suburban Education Fund's donation drive. This is the third year that Penn State York students are joining with the group to make a difference for those in need. The collection of items continues until Nov. 18.
Four student groups at Penn State York — the Human Development and Family Studies Club, the Multicultural Club, Lion Ambassadors, and the Student Government Association — are joining forces, along with YSEF to help.
"We just thought it was a good cause to keep contributing to. High school students should never have to worry about where their next meal comes from, or if their basic hygiene needs would be met that day," said Lena Pham, a Penn State York student and president of the Human Development and Family Studies Club on campus. "It's very admirable that the Impact Foundation is largely run by student leaders and volunteers, and that they are willing to help out their peers," she said.
York students discovered the donation drive two years ago when Sweeta Rasiyan, now a senior at Penn State York, brought it to their attention. Rasiyan worked with the Impact Foundation and YSEF when she was a student at York Suburban High School and brought the idea to the campus.
Donations of nonperishable food, such as canned tuna, pasta, fruit, and vegetables, as well as fruit snacks and pudding cups are needed. Personal hygiene items needed include shampoo, conditioner, hand soaps, body wash, toothbrushes, toothpaste, feminine products, men's and women's razors, toilet paper, and paper towels.
Pham expressed her final thought about students helping students through this drive. "It's just such a simple, yet impactful way to provide needs for students in the local area," she said.
Donation boxes are in the Lee R. Glatfelter Library, the Student Affairs Office in the Joe and Rosie Ruhl Student Community Center, and the Admissions Office in the Main Classroom Building.