Indoor tournaments draw students to have fun and compete for prizes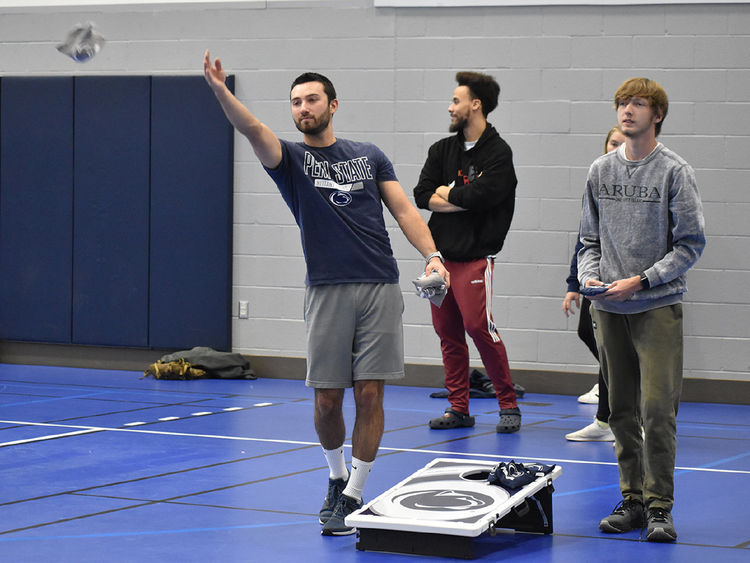 YORK, Pa. — The claps and cheers from the cornhole and table tennis tournaments could be heard from the Multi Activity Court (MAC) all throughout the Joe and Rosie Ruhl Student Community Center (The Ruhl Center) in the late afternoon of Oct. 21.
Penn State York students gathered in the MAC to compete in the cornhole and table tennis tournaments. Both the cornhole and table tennis competitors began right at the start of the tournament at 3 p.m. The cornhole tournament ended at 5 p.m.
The event was run by Sadie Schantz, the secretary of the University Programming Board (UPB) at Penn State York and a junior majoring in psychology. Schantz also is a member of the women's volleyball team and a Lion Ambassador.
"UPB strives to get student involvement and interaction on campus," Schantz said. "This is the first time we have done something like this, and since there isn't too much going on around campus on Fridays, we considered this a good chance to spark some more interaction and busier campus life."
The winners were Carter Williams, a senior majoring in business with a focus in accounting, and J.P. Dyson, a senior majoring in cybersecurity analytics and operations. Both are members of the baseball team at Penn State York. They were each awarded $20 gift cards to a local restaurant.
"It was a fun time playing cornhole," said Williams. "It was nice to be able to take a break from studying and have a good time with friends and meet new people on campus."
The end of the table tennis tournament followed shortly after the other tournament. Aarya Vismay Patel, a freshman majoring in architecture, was declared the winner, and was awarded two $10 gift cards to a local restaurant. Patel also is the president of the new Table Tennis Club on campus.
Although the UPB sponsored this event for fun, there also was a serious purpose to it.
"While this was a test run for future events, we also wanted to make people aware of Penn State York's new Table Tennis Club," Schantz said. "Not a lot of people know about it, so this was their chance to get the word out."
"We were expecting very few people to show up to the tournament, but it was phenomenal as more than the approximated number showed up," Patel said. "I had fun, and it was a big hit with the people seeing how spirited and competitive they got in the tournament."
Several attendees participated in the overall tournament, but there were many students who came to watch and show support for their peers.
"I had a lot of fun watching the cornhole and pingpong tournaments," said Cassidie Crebs, a sophomore majoring in political science, the Penn State York Benefiting THON chairperson, and a Lion Ambassador. "I did not participate, although I felt very involved just by watching. I also got to talk to many friends and made many new ones. It was a great experience overall."