Children in kindergarten through sixth grade received a book of their own thanks to the efforts of York students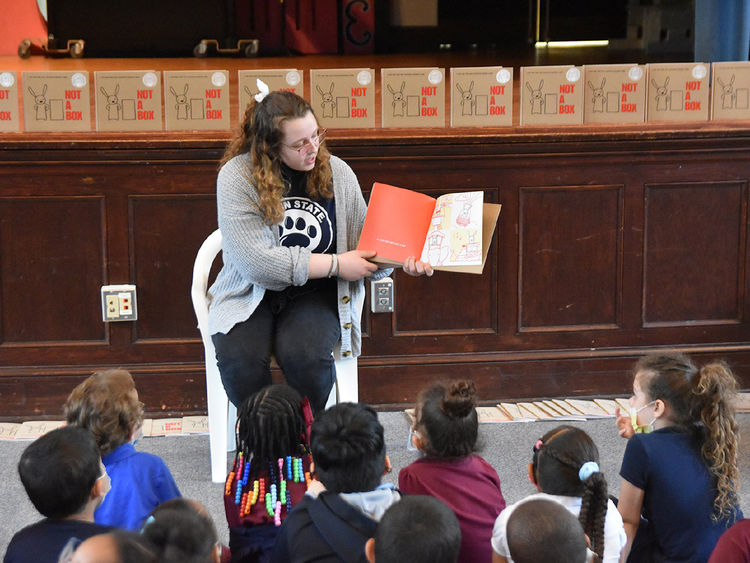 YORK, Pa. — The words, "A book of my own," and a smile were the positive reactions from kindergarten through sixth-grade students at Edgar Fahs Smith STEAM Academy in York, Pennsylvania, when they received a book to keep as their own.
The appreciative smiles were thanks to a project at Penn State York during the spring semester. The elementary school students received a book because of the work of Ann Fetterman's English 202A: Effective Writing in the Social Sciences class, and others at the campus.
Students in Fetterman's class, along with staff at the Lee R. Glatfelter Library, held fundraisers and raised enough money to purchase 300 books for students. "Not a Box," "Flat Stanley — His Original Adventure," "The Magic Finger," "Refugee," and "Prisoner" were given to the school.
This is not the first time Fetterman's students have reached into the community to help. Projects in the past have included creating brochures for nonprofit agencies and other book drives.
"My philosophy in English 202A, since the students are all social science majors, is to make students aware of their communities' needs," said Fetterman. "We research social service agencies and students choose one agency to present to the class and create a flyer for. Sometimes these turn into an off-campus engagement experience, and that's great. We all need to discover how our talents can help others."
The book drive was spearheaded by two of Fetterman's students, Julianne Stealey and Logan Grazuties, along with help from Barb Eshbach, head librarian at the Lee R. Glatfelter Library on campus. Eshbach helped raise awareness about the fundraising events and made flyers to promote them.
To raise money to purchase the books, Grazuties organized a two-on-two basketball game where students, faculty, and staff could participate, and snacks were sold. Stealey made flyers, sold snacks, and took donations at the Josh Gates event at The Pullo Family Performing Arts Center (The Pullo Center) on campus, along with Fetterman. All the proceeds from the concessions went to the book drive.
"Professor Fetterman introduced the idea of a book drive to the class. The concept of a book drive was truly relevant to the course material in ENGL 202A. For instance, we learned about APA core values and solicitation letters," said Stealey. "The book drive was a great way to apply what we were learning," she said.
The class wanted the book drive to be local, so Fetterman connected with a former York student and Penn State graduate, Marissa James Dellinger, who is a teacher at Edgar Fahs Smith STEAM Academy. 
Once the books were purchased, a date was set for a group from the York campus to go to the elementary school and present them to students along with Dellinger. Stealey was also given the opportunity to read the book "Not a Box" to the group at the assembly.
"I was delighted to have the opportunity to read to the children and present them with a book. The children were captivated by the book and were very interactive," Stealey noted. "Then, seeing their reactions to being told they would get their own book to take home was priceless," she said.
This assembly was especially rewarding for Stealey because she is a human development and family studies major with a minor in early childhood education and development; working with children is in her future.
For Dellinger, the opportunity to reconnect with Fetterman was "a dream come true."
"Mrs. Fetterman was my rock for the two years I attended Penn State York. She encouraged and believed in me and my ability to be the educator," said Dellinger, a 2014 Penn State graduate with a degree in elementary education.. "When Mrs. Fetterman reached out about this project, I was ecstatic. Edgar Fahs Smith will be forever grateful for the wonderful experience that was given to them," she said.
According to Dellinger, the students were overjoyed when they were able to go to the auditorium for this event.
"This was the first assembly for the students due to COVID-19," said Dellinger. "Not only were they able to have the book "Not a Box" read to them, but they were also extremely excited about being able to keep the book." One student shared with Dellinger that they would read the book all summer.
Fetterman plans to continue to offer experiences for her students that allow them to make a difference in the community.
There is no question that for Stealey, the experience was life changing.
"The book drive was an incredible learning experience, and it was amazing to be a part of something so beneficial to the children in my local community," she said.