Deadline for submissions set for Oct. 31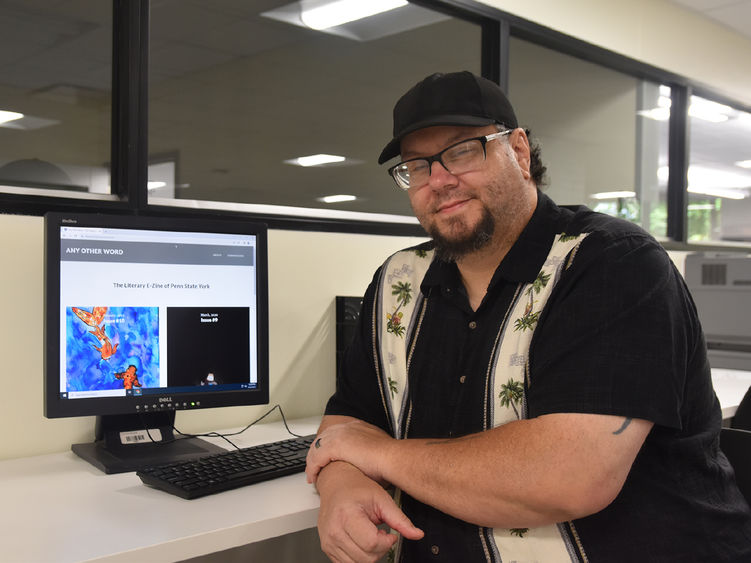 YORK, Pa. — Fiction, poetry, and visual art are all being accepted for the Penn State York Literary Competition, now under way.
Writers of fiction and poetry, and those with an artistic flare (cover art) who are interested in having their work published, should plan to enter the Penn State York Literary Competition sponsored by the Pullo Family Performing Arts Center (The Pullo Center) and Any Other Word, the campus' online literary magazine. This competition is open to Penn State York students.
Submissions for the literary contest and magazine are being accepted now through Oct. 31. Winners will receive Amazon gift cards and have their works published in the 11th edition of Any Other Word, set for publication in spring 2023.
Why should students submit their work to the contest? Jeff Crawford, a senior majoring in English, editor of Any Other Word and one of the judges for the competition, shared his thoughts.
"Not only is this opportunity a great chance to win Amazon gift cards, but it's also a résumé builder, a chance to create networking opportunities, and an opportunity to get their works out into the world and on display," said Crawford. "Their works will be peer-reviewed which can become an amazing chance for them to consider going from writer to author. Plus, I like meeting new and upcoming students that have writing talents."
Crawford decided to take on being the editor of Any Other Word because of his "absolute love of English" and he has also been on the winning end of the Literary Competition and had his work published. He also believes that submitting work and participating in the competition is a positive way to build a résumé.
"I also believe in campus news and art being available to anyone who wishes to have access," said Crawford.
Three prizes will be offered in each category: fiction, poetry, and magazine cover art. Amazon gift cards will be awarded to winners: first place is $75, second place is $50, and third place is $25.
In the fiction category, a maximum of 20 pages will be accepted; and in poetry, one to five poems can be submitted. Paintings, drawings, photos, and collages can be entered for the cover of the online publication. Only top-quality works will be published, and some prizes may not be awarded. Gift cards will be given during the spring 2023 semester.
The Pullo Center has supported student creative work for a number of years and has helped provide the prizes for the contest.
Submissions are now being accepted for both the 11th edition of Any Other Word and the Literary Competition. All submissions, along with any questions, should be addressed to Noel Sloboda, associate professor of English and adviser for Any Other Word, at [email protected].
Any Other Word is a creative outlet for members of the Penn State York community (students, staff, and faculty) and was created to showcase literary talents and unite artistic minds. Work on the first issue began in the fall of 2006. Work published in Any Other Word is selected by its editors who read all entries submitted and make selections. All authors retain full copyrights on their works. The student adviser has the final say on what is published. The publication takes its name from the quote by William Shakespeare, "What's in a name? That which we call a rose by any other word would smell as sweet."
It was Sloboda's idea to begin the online literary magazine as well as a literary competition on campus. He is excited to publish the 11th issue of Any Other Word in the spring and include some of the award-winning work. The first issue of Any Other Word was published in February 2007.
To read previous issues of Any Other Word, visit the website.