Undergraduate research, student clubs and organizations, and the Graham Fellows Program for Entrepreneurial Leadership featured during meeting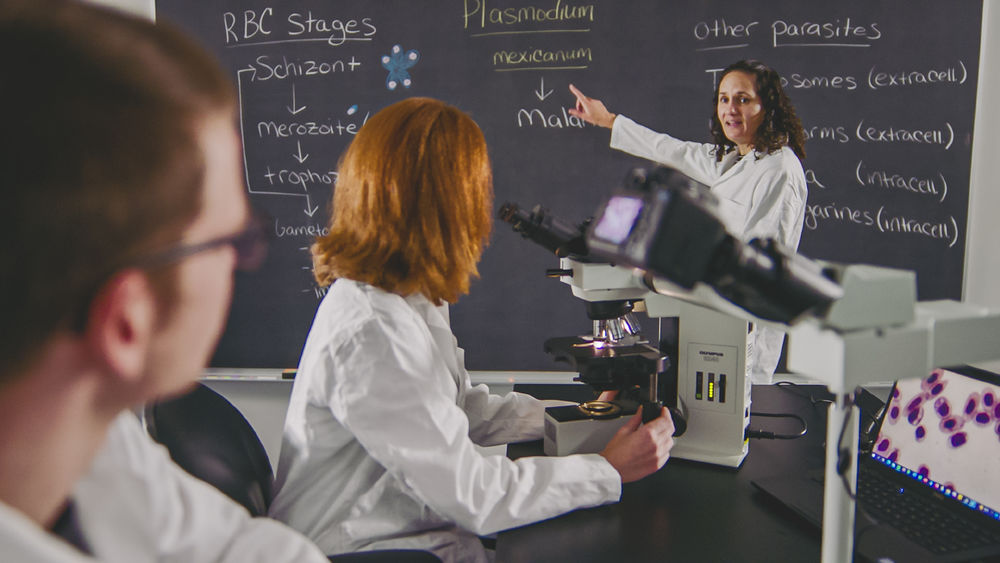 YORK, Pa. — The power of undergraduate research opportunities, student experiences related to clubs and organizations, and the Graham Fellows Program for Entrepreneurial Leadership were discussed during a meeting of the Penn State Board of Trustees Committee on Academic Affairs, Research and Student Life on July 21 at Penn State York. 
Chancellor David Christiansen shared the importance of the three examples of transformative education initiatives at Penn State York.   
Undergraduate research 
Robert Farrell, director of academic affairs at Penn State York, discussed the importance of undergraduate research at the campus drawing special attention to the Exhibition of Undergraduate Research held each year to feature students presenting the research outcomes of their work with faculty members. He noted that York students receive numerous Erickson Summer Discovery Grants and Student Engagement Network Grants from the University each year as well as other funding faculty have received to support student research. 
York has a long history of faculty members providing one-on-one research opportunities for undergraduates. Anne Vardo-Zalik, associate professor of biology, discussed the importance of biology students having opportunities where they can develop fundamental skills for employment or further education as well as developing a stronger sense of self, purpose and responsibility.  
Madalyn (Mady) Imboden, who worked with Vardo-Zalik, shared her experience this summer. Imboden spent a week at the Raystown Lake field station surveying eastern fence lizards and box turtles for pathogens. Vardo-Zalik and her undergraduate research team initiated a monitoring program for pathogens in these two populations in hopes of determining which infectious diseases currently infect these species and their distribution. 
"This work will be a starting point for understanding how reptilian diseases are affected by environment changes," said Vardo-Zalik. "Once data is gathered during field work, students head back to the lab for further investigation and analysis." 
Imboden said she's still trying to figure out what she wants to do for a career but working with Vardo-Zalik at Lake Raystown opened her up to new experiences and career paths that she hadn't previously considered.  
"I knew I wanted to go to college, I just didn't know what I wanted to do," Imboden said. "Opportunities like this opened my eyes to the possibilities of what I can do beyond the lab. I think it will be interesting to see the data that comes out of this once we've collected it all." 
In biology alone over the last decade, Vardo-Zalik and her colleague Jessica Petko, associate professor of biology, have mentored 54 students in undergraduate research projects. Students have secured more than $80,000 in funding to support their research activities, co-authored articles with faculty members in professional journals, and made more than 40 research presentations at regional, national and international conferences. 
Phi Beta Lambda 
Under the guidance of Megan Lorenz, lecturer in business administration and club adviser, the Phi Beta Lambda chapter at Penn State York has earned a total of 84 state and national awards, including 24 first-place state awards and seven national first-place awards over the past four years at the Future Business Leaders of America–Phi Beta Lambda (https://www.fbla-pbl.org/) leadership conferences. This organization is the largest student business organization in the world. 
There are more than 60 different competitive categories including knowledge-based testing, academic/research presentations, public speaking, web design, marketing concepts, and business decision making and analysis. 
Penn State York students Victoria Huynh and Ryan Dellinger, along with Austin Albright, a spring 2022 graduate, shared their experiences competing in Chicago and leading up to the event. 
"Being a commuter student, I feel like it's harder to get involved sometimes with your fellow classmates," said Dellinger. "To have an opportunity where we can come together and grow together professionally, and then also grow together as friends and create new friendships, really is a big part of FBLA for me. Our adviser, Professor Megan Lorenz, has been a huge impact for me. I would have never joined FBLA if it wasn't for her constantly pushing me. She really saw the drive that I had in me to try to become a better version of myself and to try to improve myself professionally, and FBLA is an outlet to be able to show off your professional skills and to grow them as well." 
Graham Fellows Program for Entrepreneurial Leadership  
Allan Lehman, director of the Graham Fellows Program for Entrepreneurial Leadership and the Graham Center for Innovation, provided an overview of the Graham Fellows Program which partners with business and industry to help prepare Graham candidates for their professional careers, equipping them with the knowledge and skills to be innovative leaders within a collaborative environment. Students participate in networking events with corporate partners and attend a variety of workshops to help prepare them for future careers. 
Austin Albright and Victoria Huynh, who spoke as part of the Phi Beta Lambda group, returned to the microphone to answer questions and share their experiences participating in the Graham Fellows Program.   
Panelists for this discussion included: 
David Christiansen, chancellor of Penn State York 

Robert Farrell, director of Academic Affairs  

Anne Vardo-Zalik, associate professor of biology 

Madalyn Imboden, student participating in undergraduate research with Vardo-Zalik 
Victoria Huynh, student, state and national PBL competition participant and winner, and Graham candidate 

Austin Albright, 2022 graduate, state and national PBL participant and winner, Graham Fellow 

Ryan Dellinger, student and state and national PBL competition participant and winner 

Allan Lehman, director of the Graham Center for Innovation and Collaboration