York group heads to the windy city for national competition, June 24-27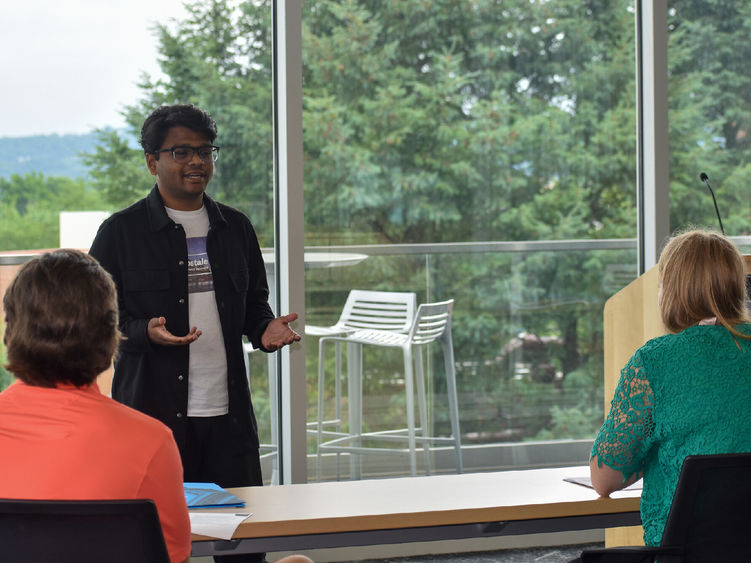 YORK, Pa. — Eleven students in the Penn State York Phi Beta Lambda (PBL) Chapter, and their adviser, Megan Lorenz, are headed to Chicago thanks to their performance at the 2022 Future Business Leaders of America – Phi Beta Lambda (FBLA-PBLA) state competition held in April. The group brought home 19 state awards, the highest number since they began competing in 2019. This is the fourth consecutive year that students brought home state awards and qualified to compete at nationals, this year being held in Chicago, June 24-27.
"It was a great moment to see Penn State York students winning state awards for their work, research, and professional skills during the PBL State Leadership Conference," said Megan Lorenz, PBL adviser and lecturer in business administration at Penn State York. "Their work involves spending significant time outside the classroom, which doesn't come with a grade earned in a course, it comes with their personal desire and passion for their own development, and that is truly remarkable," she said.
To compete at nationals, students had to place first or second in a presentation event or first through third in an exam at the state competition.
State competition winners are:
1st Place – Accounting Principles
Justin Lin
1st Place – Business Decision-Making and Analysis
Guozilin Chen
1st Place – Business Ethics
Nakhaiya Jacobs and Sadrina Imam
1st Place – Computer Concepts
Ryan Dellinger
1st Place – Future Business Executive
Austin Albright
1st Place – Impromptu Speaking
Sadrina Imam
1st Place – Programming Concepts
Arya Samarth
1st Place – Sports Management and Marketing
Kyle Bruner
1st Place – Strategic Analysis and Decision Making
Pradynesh Bhoir
2nd Place – Accounting for Professionals
Caitlan Hevener
2nd Place - Business Ethics
Justin Lin
2nd Place – Computer Concepts
Aiden Smeltzer
2nd Place – Desktop Publishing
Victoria Huynh
2nd Place – Entrepreneurship Concepts
Ryan Dellinger
2nd Place – Project Management
Pradynesh Bhoir
2nd Place – Statistical Analysis
Austin Albright
3rd Place – Macroeconomics
Guozilin Chen
3rd Place – Marketing Concepts
Victoria Huynh
3rd Place – Website Design
Disha Ghosalker
Students continue to credit their success to the encouragement, support, hard work and dedication from their adviser, Megan Lorenz.
Ten of the 11 winners at states were part of the Graham Fellows Program at Penn State York. 
Since 2019, the first time the York PBL chapter competed, they have won 52 awards at the state level, including 24 first-place awards. At the national level, not including 2022, they have won 18 awards, including six first-place awards.
Lorenz and her students expressed gratitude for the support from the campus community and the funds for the trip from the Women's Philanthropic Network, the Graham Fellows Program for Entrepreneurial Leadership, the Student Activity Fee, the campus Student Government Association, the campus Honors Program, the Penn State York Academic Affairs office, and Harford Bank in Aberdeen, Maryland.