Students have immediate connection with incoming president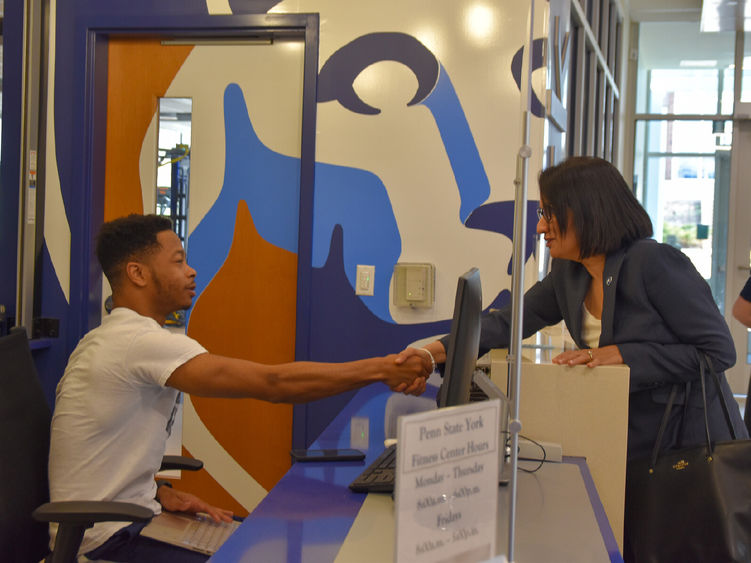 Editor's note: This spring, Penn State President-elect Neeli Bendapudi is traveling the commonwealth as part of a listening and learning tour to meet and engage in conversation with students, faculty, staff and community members at each Penn State campus.
Working at the control desk in the Joe and Rosie Ruhl Student Community Center is a routine task for Malik J. Morris, a senior majoring in corporate communications at Penn State York. He meets many different members of the campus community but on Friday, March 18, Morris was greeted by Penn State President-elect Neeli Bendapudi, as she toured the campus as part of her listening and learning tour prior to taking the official position as the 19th president of Penn State on May 9.
"I felt good when she stopped to say 'hello,' and introduce herself," said Morris. "She seemed student-centered which is great for Penn State York," he said. "We had a short meet and greet, but at the time I could tell she was excited to be at the campus and was looking forward to the opportunity to come."
President-elect Neeli Bendapudi met with students, faculty, staff and key stakeholders and community partners at York as part of her visits to all of the campuses. Penn State York was the second stop on her tour, which continues until early May.
During her tour stop, President-elect Bendapudi discussed her overall vision for the University; her commitment to the collaboration of students, faculty and staff; as well as the importance of Commonwealth Campuses to the University's success.
She also shared what she called her "ABCs of success": Ensuring Academic preparedness for students, instilling a sense of Belonging for all members of the Penn State community, and providing access and affordability by managing the Cost of education.
At York, students, faculty, and staff found her engaging and easy to talk with.
Madison Forbes and Sweeta Rasiyan, Penn State York students and Lion Ambassadors, who gave the campus tour to President-elect Bendapudi and the group from the University Park campus, were impressed with the President-elect.
"I thought that she was truly kind, and she was very enthusiastic to learn about Penn State York. She was highly engaged in the tour and spoke personally to students that we passed on campus," said Forbes, a senior majoring in human development and family studies.
The one thing that stood out to Forbes about President-elect Bendapudi was how interested in students she was. "She went out of her way to speak to students directly and ask them about their experiences at Penn State York. During the student session, she asked everyone to sit in a circle to facilitate collaboration. She treated students with respect, and she made an effort to connect with every student that she met."
For Rasiyan, President-elect Bendapudi made her comfortable and was willing to answer any questions she was asked. "I was impressed with how sweet and down to earth she was. She also didn't make me feel nervous about giving her tour." What Rasiyan will also remember most is the hug President-elect Bendapudi gave her and Forbes at the end of the tour.
Final words from Forbes, who will graduate in May, "I was honored to have had the opportunity to meet her. It is an experience I will never forget. "
Andrew Caldwell, director of advising and career development at Penn State York, found it notable that President-elect Bendapudi is taking the time to visit each campus before officially starting as the president of Penn State.
"Through her remarks and questions, it was clear to me that Dr. Bendapudi wants to understand what makes each campus unique," said Caldwell. "At an institution as complex as Penn State, this first step is essential to be an effective leader. She gets it."
Caldwell continued "I'm looking forward to examining longstanding problems in new ways. At the Commonwealth Campuses we have so much potential to be more collaborative, efficient and most importantly, student-centered in how we operate. He noted that during her visit. President-elect Bendapudi made the case that she values the special role each campus plays in fulfilling the University's mission. "I found her energy and enthusiasm to be infectious."
A group of community leaders and campus advisory board members also met with her and had the opportunity to learn more about President-elect Bendapudi's academic leadership experience and her background in business. She is making history as the first woman and person of color to serve as president of Penn State.
President-elect Bendapudi shared that she was excited to visit Penn State York since the campus will be special to her as the location of her first Board of Trustees meeting as President of the University in July 2022.
President-elect Neeli Bendapudi
With a 30-year career in academia, she previously served as the president of the University of Louisville. Among her leadership experiences, she has served as provost and executive vice chancellor at the University of Kansas, dean of the School of Business at the University of Kansas, and as founding director of the Initiative for Managing Services at the Ohio State University.
In addition to consulting for some of the world's largest companies and organizations, she was the executive vice president and chief customer service officer for Huntington National Bank. With a research background in the study of customer behavior in service contexts, she has taught marketing at a variety of higher education institutions and been recognized for her leadership, academic and leadership accomplishments. Bendapudi earned her bachelor's degree in English and master of business administration degree from Andhra University in India and her doctorate in marketing from the University of Kansas.