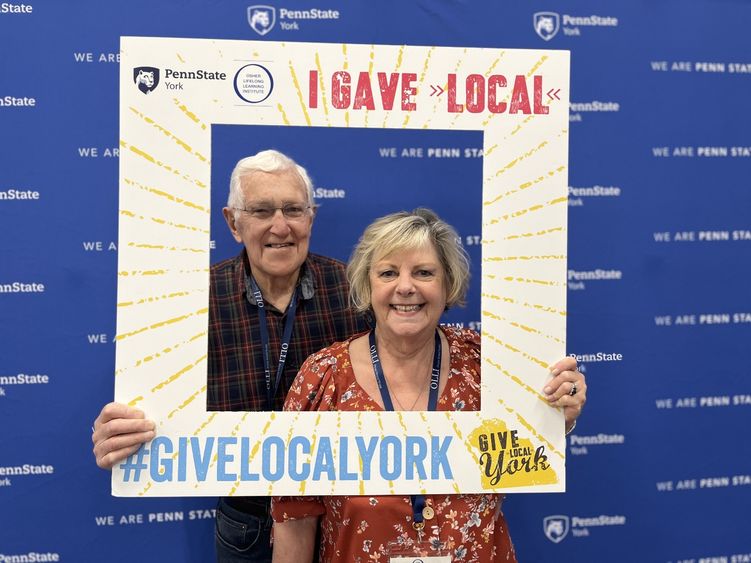 YORK, Pa. — The desire to stay active and never stop learning is the driving force behind the Osher Lifelong Learning Institute (OLLI) at Penn State York. OLLI will once against participate in Give Local York (GLY), set for May 6 to raise funds to keep the group growing and providing opportunities.
This is the fourth year the group has been a part of GLY. OLLI provides a variety of classes and other activities to enhance the lives, expand the minds, and provide fun for mature adults, 55 and older.
OLLI is a nonprofit organization and is one of more than 300 participating in Give Local York, a 24-hour fundraising event across York County. This year, the online day of giving is Friday, May 6.
"We have participated in Give Local York since 2019 and have increased our fundraising each year. This year we have many new members of OLLI, so I can't assume that we will raise similar amounts as previous years," said Jennifer Geubtner-May, director of OLLI at Penn State York. "However, in general, Penn State York's OLLI members are known for their generosity, so I am hopeful that we will reach our goal of $23,000."
During last year's GLY event, the organization raised $21,437 on GLY Day. With the GLY Stretch Pool Goal provided by local businesses and organizations, the final total for 2021 was $22,786. The funding enabled OLLI to provide members with access to 230 courses, 26 social events, four lecture series presentations, and much-needed socialization following the COVID-19 pandemic.
OLLI continued to offer courses, online and in person, throughout the pandemic and now boasts almost 600 members.
Donors can give to OLLI at Penn State York on May 6 here. There will also be links on the OLLI Facebook page and the OLLI website.
In addition to donating to OLLI, Geubtner-May is hoping individuals will share their passion for OLLI with others and consider volunteering. OLLI is a mostly volunteer-driven organization, established to enrich the lives of mature adults living in York County.
A gift of any size can make a difference. OLLI's Development Committee has established annual giving levels, detailed here:
Friend — $25-99
Associate — $100-249
Graduate — $250-499
Scholar — $500-999
Cum Laude — $1,000-1,499
Magna Cum Laude — $1,500-2,499
Suma Cum Laude — $2,500+
OLLI at Penn State York
OLLI at Penn State York is one of more than 124 lifelong learning institutes across the nation that is supported by a grant from the Bernard Osher Foundation. The grant was made available locally through Penn State, which has OLLI sites at University Park and York.
OLLI came to Penn State York in 2007, thanks to the efforts of three women with a thirst for knowledge and mental stimulation: Olive Padden, and the late Charmaine Kissinger and Gussie Petron.
The idea of offering courses of interest during the day for adult learners without the stress of tests, requirements, and official textbooks appealed to the trio, and thanks to their leadership, OLLI began offering courses in April 2008. Since that time, OLLI at Penn State York has continued to grow with a variety of daytime courses, bus trips, travel trips, walking tours, and other exciting activities.
More ways to give
There are two additional ways to give to the GLY campaign this year. Prior to May 6, those who want to donate can send a check to OLLI at Penn State York, 1031 Edgecomb Ave., York, PA 17403. Checks must be made payable to "OLLI at Penn State York" and have "Give Local York" noted in the memo line on the check. Checks received after May 6 will not be applied to the GLY total but can still help OLLI meet financial goals. The second way to give is on May 6 by donating online.