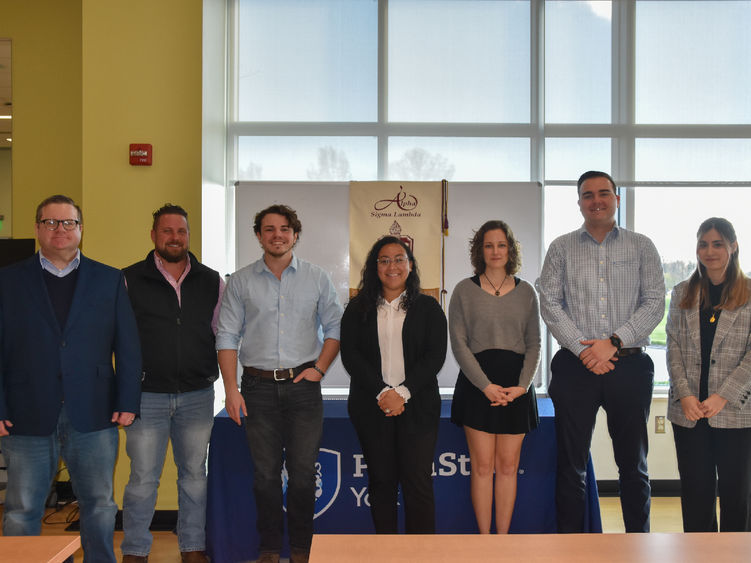 YORK, Pa. — Seven outstanding adult students were inducted into the Penn State York Chapter of Alpha Sigma Lambda (ASL) during a ceremony on Tuesday, April 19, in the Joe and Rosie Ruhl Student Community Center on campus. Alpha Sigma Lambda is a national honor society that recognizes the unique achievements demonstrated by adult students in higher education programs.
York students inducted into Alpha Sigma Lambda were Fatin Alashoor, Austin Albright, Nathalie Cabrera, Logan Leslie, Victor Paul Sciukas, Steven VanderDonk, and Hannah Wicker.
Fatin Alashoor
Alashoor was born in Iraq and raised in Binghamton, New York. She transferred to Penn State York to pursue her bachelor's degree in biology. She has taken advantage of many opportunities at the York campus, such as serving as a Lion Ambassador, which she says helped her grown as an individual and allowed her to make some great friends. Alashoor is a senior and graduates in May. She hopes to use her degree to contribute to the science and business fields.
Austin Albright
Albright grew up in York, Pennsylvania, but currently lives in Hershey with his fiancé, Brooke. He will be graduating in May with a bachelor of science degree in psychology and plans to pursue a graduate degree. He is thankful to his professors who continue to support his academic journey. Albright is a candidate in the Graham Fellows Program for Entrepreneurial Leadership (Graham Fellows Program). In his free time, he enjoys spending time with family.
Nathalie Cabrera
Cabrera was born and raised in the Washington Heights neighborhood of New York City. She now lives in York with her husband, Jeff, and their two elementary-aged children. She is a senior in the human development and family studies program with a concentration in Life-Span and Human Services. She is passionate about listening to people's stories and finding ways to help them increase their quality of life. Next spring, she plans to begin graduate school at NYU for bilingual school counseling.
Logan Leslie
Leslie was born in Rochester, New York, and grew up in northwestern Pennsylvania in the Allegheny National Forest in the town of Kane. Following high school, he worked in multiple fields in various states before enlisting in the Army. He served his country for five years and notes that he gained valuable leadership experience during that time. He is graduating in May with an associate degree in mechanical engineering. He also serves as president of the Penn State York Robotic Football Team. While attending college, Leslie became an uncle, got engaged and planned a destination wedding. His interests and hobbies include computers, motorcycles, music, camping, travel and spending time with his family.
Victor Paul Sciukas
Sciukas was born and raised in Baltimore, Maryland, and moved to Pennsylvania about 20 years ago. He lives in York with his wife, Laurel, and their basset hound, Peanut Butter. Sciukas is a junior majoring in business and has been taking evening classes for several years and is looking forward to graduating next year. He is celebrating his 26th year as an employee with McCormick Spice where he is a supply chain planner supporting food service and restaurant customers. Sciukas is also an avid homebrewer and has converted his basement into a nanobrewery.
Steven VanderDonk
VanderDonk was born and raised in Canada. He moved to the United States when he was 18-years-old and to Pennsylvania a few years later. He currently lives in Windsor, Pennsylvania, and holds a management position in manufacturing operations. He is a sophomore pursuing a business management degree. In his spare time, he has coached high school football at Cedar Cliff and Northeastern.
Hannah Wicker
Wicker grew up in Potter County, Pennsylvania, the youngest of five siblings. After being homeschooled, she enlisted in the Army. She is a freshman, pursuing a biology degree and plans to work in the animal conservation field. Wicker lives in York but hopes to relocate to a warmer climate after graduation. She is enjoying her time as a Penn State York student and the opportunities that she has experienced.
Penn State York began a chapter of Alpha Sigma Lambda in 1991 to recognize the accomplishments of its growing adult student population. Penn State considers an adult learner someone who is 24-years-old or older; a veteran of the armed services; returning to school after four or more years of employment, homemaking or other activity; or a person who assumes multiple adult roles as a parent, spouse/partner, employee and student.
About Alpha Sigma Lambda
Alpha Sigma Lambda's aim is to recognize the special achievements of adults who accomplish academic excellence while facing competing interests of home and work. ASL encourages many students to continue toward and to earn associate and baccalaureate degrees.
Student members must have completed a minimum of 24 graded semester hour credits or the equivalent and must be matriculated students in an undergraduate degree program in an institution that is regionally accredited in the United States or recognized by the ministry of education of the country in which the program operates. These college credits may not include transfer credits. All 24 credits must be taken through and graded at the matriculating institution and must be included in the student's cumulative grade-point average.
At least 12 credits of students' total credits should be earned in courses in liberal arts/sciences, not including applied arts/sciences courses. Accepted transfer courses may be added to the 24 credits earned at the institution until the liberal arts/sciences requirements are fully satisfied.
Student members are selected from the highest 20% of the students who have 24 graded credits and are matriculated in an undergraduate degree program.
Student members selected must meet minimum grade-point average requirements from their institution. The cumulative scholastic record of the student, as interpreted by the institution where membership is to be conferred, is the basis for computing scholastic eligibility.
Through leadership born of effort, both scholastically and fraternally, Alpha Sigma Lambda inspires its candidates to give of their strengths to their fellow students and communities through their academic achievements.