Ask the Authors event features Penn State York students Brynn MacDonald and Avery Volz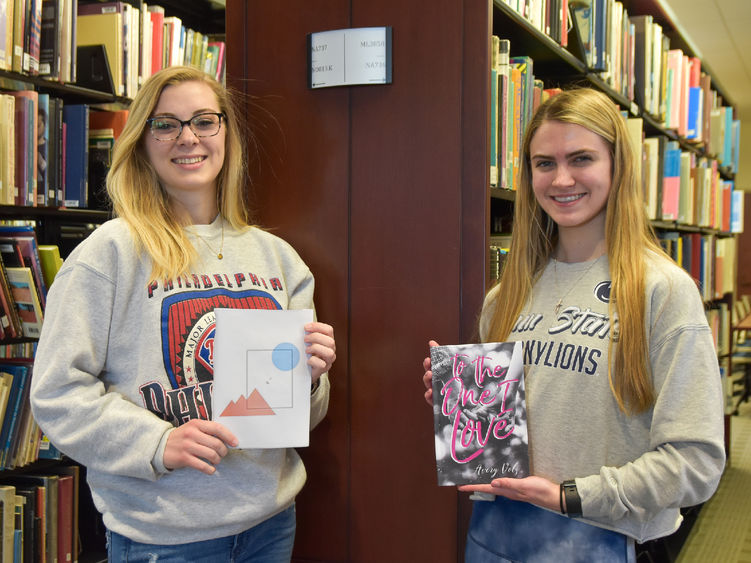 YORK, Pa. — Brynn MacDonald and Avery Volz have something in common — not only are they Penn State York students, but both young women have published books. The student-authors will answer questions and share their experiences during an Ask the Authors event set for 12:15 p.m. Friday, April 8, in the Lee R. Glatfelter Library on campus. The program, hosted by the library, is free and open to the public.
MacDonald has written a poetry book titled "for the box," and Volz has penned the novel "To the One I Love." Those who attend can bring copies of the books for the authors to sign. Copies of their books also are available in the library for check out.
Brynn MacDonald
A junior majoring in English at the York campus, MacDonald, 20, had always wanted to publish a book and her wish came true on August 11, 2021. It took her about four years to write "for the box," but just a month to put the poems together.
"Oddly enough, there wasn't anything specific that inspired me to put my poetry collection together. I had been writing poetry for four years, and after sifting through my older and newer poems one day, I decided to compile them together," said MacDonald.
Her book is a compilation of poems exploring a variety of topics, such as mental health, love, loss, curiosity, prejudice, and many others. The book includes several different forms of poetry, such as haiku, and the variety of poetry makes it appealing to a variety of readers.
"This book was mainly meant to prove to myself that I could do it, and I did," MacDonald said. She hopes to publish a second book and notes it will be different and have much more focus.
MacDonald's book is available through KDP Publishing on Amazon.
Avery Volz
In 2019, Volz was dealing with some personal issues, including a tough loss, and taking a hard look at her own mental health with anxiety and depression. She always knew that something good would come out of it, but for a long time, she could not write anything.
"In December of 2019, I was paging through a book of prompts to inspire myself, and I came across a page that said, 'Write a story in the form of a letter,' and suddenly the characters, plot line and story popped into my head. There was so much I had to say about what I had learned in that hard time of my life. So, after that, the novel wrote itself," she said.
Volz started writing her book, "To the One I Love," on Jan. 1, 2020, at age 17, and had a first draft done by August. Volz, now 19 years old and a first-year student majoring in psychology at the York campus, had her book published in February 2022. She did four rewrites on her own and submitted it to a publishing company in February 2021. She completed edits throughout the year, and after two years of work, her book was published.
"To the One I Love" is a story of first love, first heartbreak, friendship, identity and all the beautiful intricacies of those aspects. It follows the story of Abigail Ferr as she recalls her eventful life in a letter to her children. The letter is dedicated to the love of her life, whom she met at just 11 years old. 
Volz's book was published by Tivshe Publishing and is available on Amazon and Barnes & Noble.
MacDonald and Volz plan to share their stories and tips on how to successfully author a book and have it published.