Student organizes 'Stuff-A-Plush' event to raise awareness about childhood cancer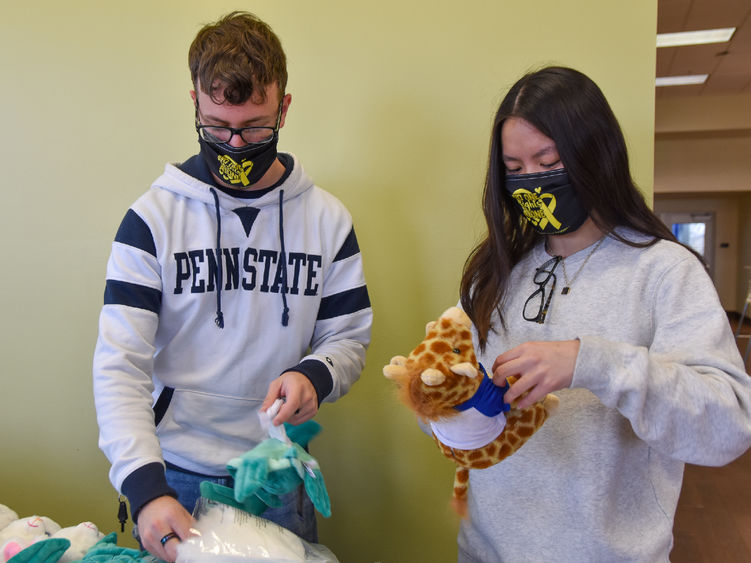 YORK, Pa. — "You are a hero," "You are so strong," "We love you," and "You got this" are just a few of the messages of hope that Penn State York students, faculty and staff sent to children at Penn State Health Children's Hospital in Hershey. The messages were part of a tree of life designed to spread messages of hope.
Those in attendance wrote messages on paper handprints of varying colors with a goal of later displaying the tree on campus.
Tyler Muessig, a first-year student at Penn State York and a member of the Penn State York University Programming Board, came up with the idea of a Stuff-A-Plush event and was in contact with the hospital to see if the campus could stuff and deliver plush animals and messages of hope.
The event, held on Feb. 9, brought out a large crowd, and the 100 plush animals were stuffed in a short time. In addition to the stuffed animals, 50 other unstuffed animals were sent, along with their stuffing, so that older children could stuff the animals themselves. Items were delivered to the hospital on Feb. 10.
"I wanted to make sure that this was not only a normal charity event but also a time to bond and connect with our peers in honor of those children at the children's hospital. They have endured so much, as well as their families, and anything we can do to put a smile on their faces is a success in my book," said Muessig.
Muessig came up with the idea after learning that International Childhood Cancer Day was set for Feb. 15, and he wanted to do something. After brainstorming with other Penn State York students and staff, the event was born.
"I know how much students here on campus love the plush animals, and I thought the children would love them even more," said Muessig. He also noted that the tree of life messages of hope were also important.
In addition to bringing smiles to children's faces at the hospital, Muessig hopes the event humbled many students and created an atmosphere in which everyone came together to bond and spread love and happiness.
The tree of life is an event that the International Childhood Cancer Day organization does, and Muessig thought it would be a great idea to further their mission to spread awareness for childhood cancer.
"We will have handprints of varying colors that students can write their messages of hope on to form a tree of life out of these handprints. The hope is to be able to hang this somewhere on campus," Muessig said.
International Childhood Cancer Day is a global collaborative campaign to raise awareness about childhood cancer and its unique challenges, while showing support for children and young people with cancer, survivors and their families.