Tenth edition of 'Any Other Word' features selected works of contest winners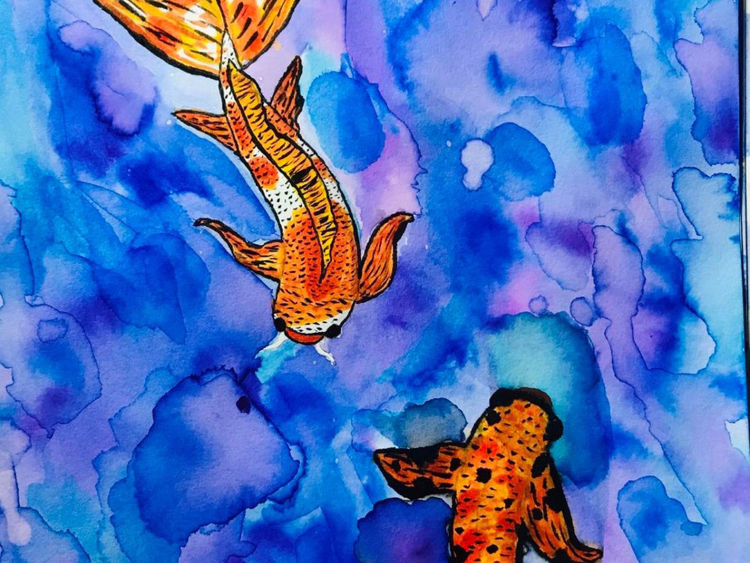 Nine Penn State York students shared their creative work and are prize-winners in the Penn State York Literary Competition sponsored by the Pullo Family Performing Arts Center (The Pullo Center) and "Any Other Word," the campus online literary magazine. Selected prize-winning works are a part of "Any Other Word," the tenth edition, which is available now at http://sites.psu.edu/anyotherword/.
Nearly 100-pages of material were submitted to the contest by students. Three prizes were awarded in each category: visual art (magazine cover art), poetry, and fiction. Amazon gift cards served as the prizes in each category-- first place $75, second place $50, and third place $25.
Visual art
The cover design of the magazine features the original artwork by Elisabeth Schueneman, who won first place in the visual art portion of the contest for her watercolor, "Bloom."  Other visual art winners are Logan Hubbard, second-place for "Skull and Bottles," a calligraphic line drawing, and Huimo Zi, third place for "Center of Life," an ink drawing.
Poetry
Ashleigh O'Neill Earyes, first place for "Oil/Stoll/Palette/Paintbrush;" Megan Pitz, second place for "The Displeasure of Understanding You;" and Brynn MacDonald, third place for "a love letter to his violin."
Fiction
Percy Chowdhury, first place for "The Fox in the Woods;" Gavin Franz, second place for "The Most Human Crime;" and Megan Heithaus, third place for "31."
Ariel Barbera and Isabel Barbera were editors for the 10th edition of "Any Other Word," and served as judges for the literary competition. They both graduated in December 2021 with a bachelor of arts in English and completed the Graham Fellows Program for Entrepreneurial Leadership (Graham Fellows Program) at Penn State York.
They were both thrilled with the number of entries and the quality of work submitted.
"I enjoyed reading each entry, and it was difficult choosing the winners. We all had a few favorites that made it into our top picks, and I was impressed with all the talent. A huge thank you to everyone who entered!" said Ariel Barbera.
Isabel Barbera had this to say, "The entries for this contest were amazing and pleasant to read. It was difficult deciding the winners and which selections to feature in the next issue of the magazine. These submissions were so lively, and it excites me to see so many ambitious and creative writers participating in something that allowed them to explore what they are passionate about when writing. I hope we get the chance to see more work produced from these writers in the future."
Noel Sloboda, associate professor of English is the faculty adviser for "Any Other Word," and teaches English courses at the York campus.