Ophelia M. Chambliss to share her thoughts as commencment speaker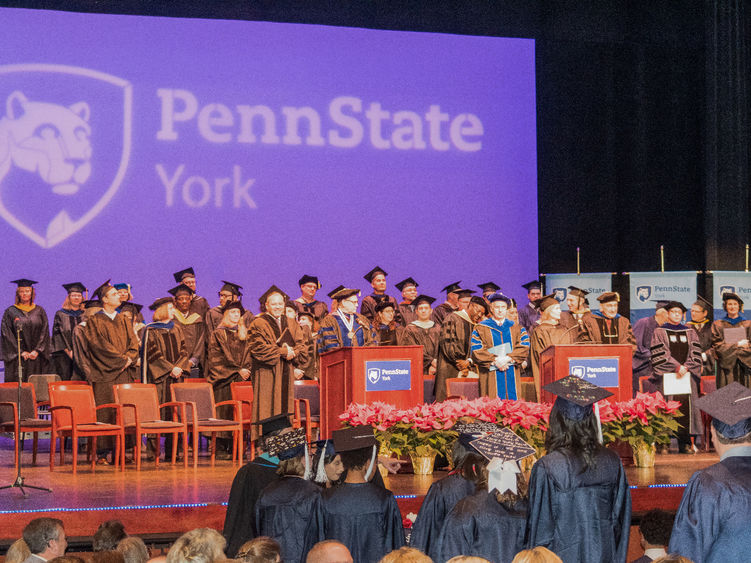 Penn State York is celebrating its annual fall commencement at 6 p.m. Friday, Dec. 17, in the Pullo Family Performing Arts Center (The Pullo Center) at the campus. This is the first in-person commencement at The Pullo Center since fall 2019, prior to the COVID-19 pandemic. All those attending the ceremony are required to wear masks to help stop the spread of COVID-19. In addition to current students about to graduate, 2020 graduates, who had virtual ceremonies, have been invited to participate and celebrate their accomplishments.
Ophelia M. Chambliss, artist, activist, educator, designer, lecturer, and muralist, is the commencement speaker. She has been successfully working and exhibiting as a fine artist and lecturer, where she combines her degrees in communication with the power of the image to create a visual rhetoric that resonates.
Chambliss has a unique connection to the campus; she is a graduate and serves as an adjunct faculty member. She holds a bachelor of arts in communication arts and sciences from Penn State York, and a master of arts in communications from Penn State Harrisburg. She has shared her artistry and wisdom with the campus community both as a student and faculty member.
She combines her visual communication with verbal and written communication to tell the story behind her work in lectures and presentations that build an appreciation for cultural understanding. She uses her work to support messages in public speaking engagements that advocate for equity, the arts, community activism, and professional development.
Visit here to see her complete bio https://york.psu.edu/academics/commencement/speaker
In addition to hearing from Chambliss, Penn State York will continue its open microphone tradition, which affords graduates a brief opportunity to address the audience for a moment. The top graduating senior, Kelsey Ruhlman, a biology major, will represent the fall class of 2021 and say a few words
The campus will award associate and baccalaureate degrees during the program.  The ceremony is free and open to the public.
For those who cannot attend the event, Penn State York's commencement can be viewed on Comcast cable channel 18 or streaming live on the campus website http://york.psu.edu/academics/commencement