Donation drive set for Nov. 8-19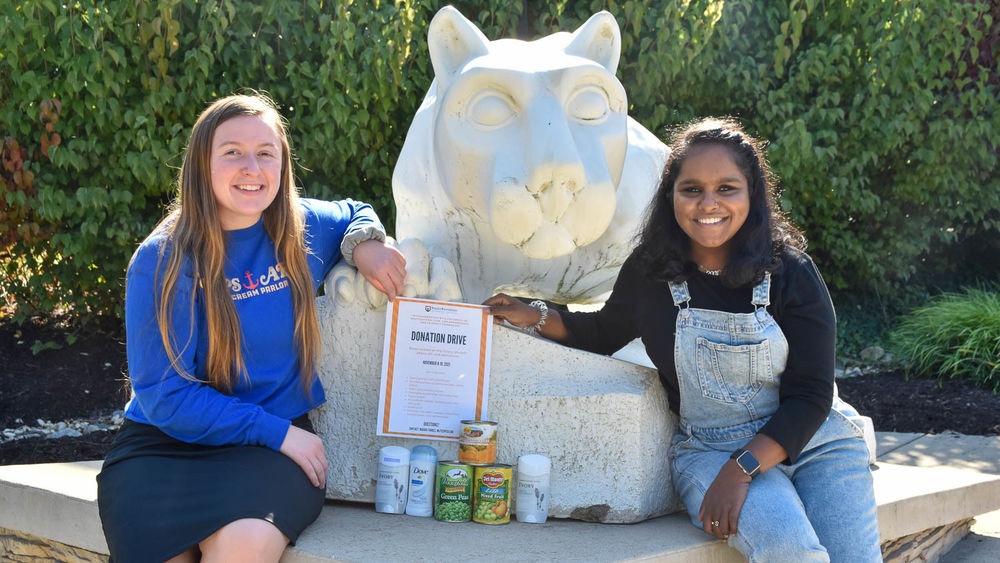 A team of people showing that they care is how Alexis Feeser, a senior at Penn State York, describes the upcoming donation drive sponsored by several student organizations who have joined forces with the Impact Foundation of the York Suburban Education Fund (YSEF). The Human Development and Family Studies (HDFS) Club, the Multicultural Club, and the Lion Ambassadors hope to make a difference by collecting useful items for those in need, Nov. 8-19.
Students discovered the donation drive last year thanks to Sweeta Rasiyan, a Penn State York junior, who is president of the Multicultural Club, a Lion Ambassador, and Student Government Association Senator, who had worked with the Impact Foundation and YSEF when she was a student at York Suburban High School. Last year, the combined York group gathered numerous boxes of donations and they hope to do it again this year.
Feeser, along with Charissa Trout, both HDFS majors, are working on the donation drive as part of a senior project in their major. Other leaders for the project include Rasiyan and Madison Forbes, Lion Ambassador president.
Donations of nonperishable food items such as cooking oil, ketchup, mandarin oranges, mixed fruit, canned pears, and canned peas are needed. Personal hygiene items needed include shampoo and conditioner, hand soaps, body wash, toothbrushes, toothpaste, feminine products, men's and women's razors, toilet paper, paper towels, and laundry products. All-purpose cleaners and dish washing pods are also on the list.
According to Feeser, the products wanted are easily available to college students and the need is even greater this year because of the continued pandemic.
"Before COVID-19 there were many people in need and now there are many more people struggling to live," she said.
Donation boxes are located on campus outside the admissions office in the Main Classroom Building (Main), the student affairs office in the Joe and Rosie Ruhl Student Community Center (Ruhl), the M.S. Grumbacher Information Sciences and Technology Center (Grumbacher), and the Lee R. Glatfelter Library. The donation drive ends on Friday, Nov. 19, and those who wish to donate are asked to have items in the boxes by noon.