Masks are now required indoors at all Penn State campuses as COVID transmission levels continue to rise across the state; questions answered around testing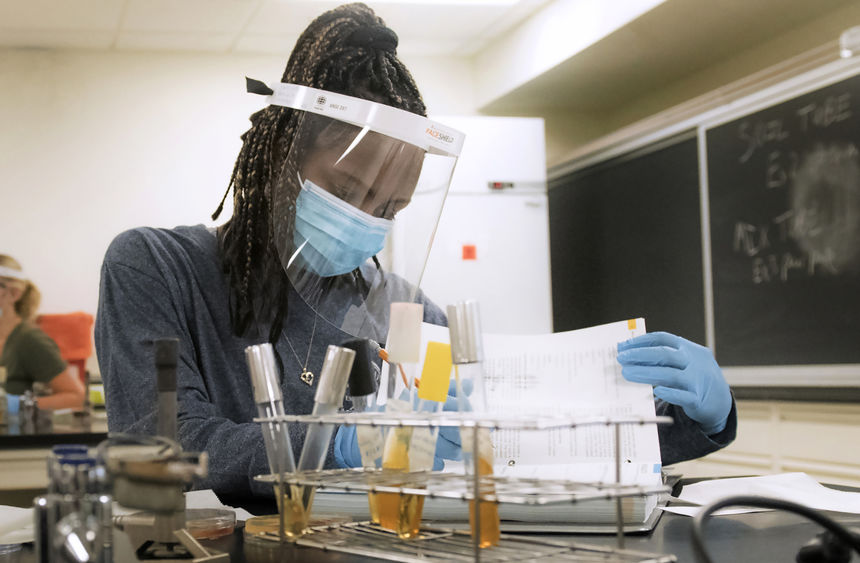 UNIVERSITY PARK. Pa. — Due to the rapidly evolving COVID-19 conditions around the country and in Pennsylvania, effective immediately (Aug. 4), Penn State will require all students, faculty, staff and visitors — including those who are vaccinated and unvaccinated — to wear masks indoors at all campuses. Within the last 24 hours, many counties that are home to Penn State campuses have shifted to "orange" status, warranting an immediate adjustment to the University's on-campus masking requirement.
"Penn State is taking this proactive measure to protect the health and safety of our campuses and help mitigate the spread of this virus within our community," said Penn State President Eric J. Barron. "As we continue to see daily increases in COVID-19 cases, particularly the Delta variant, our current outlook warrants this protective step. I continue to look forward to a return to robust, in-person experiences, and hope this is a reassuring adjustment for students, faculty and staff. To have a successful semester, it's going to take all of us doing our parts to support the well-being of our entire community."
During yesterday's (Aug. 3) town hall, Penn State leaders expressed that the University would require vaccinated and unvaccinated individuals to wear masks while indoors on campus if local virus transmission rates reach high or substantial levels in line with guidance from the Centers for Disease Control and Prevention — or when warranted by other circumstances. Given accelerating COVID-19 case counts across the state, as well as in consultation with University Faculty Senate leadership, the University has updated its masking requirement. Almost half of ourcampuses are located in counties that currently have substantial or high rates of COVID-19 transmission.
At this time, all on-campus activities will continue as regularly scheduled with required indoor masking in place. This shift to masking does not change the return-to-work process for faculty and staff. The new measure applies to all Penn State campuses except the College of Medicine, which has already implemented specific guidance for its community.
Community members will be required to wear masks indoors, including in all classrooms — regardless of size — as well as in meeting rooms, common areas in residence halls, and at any indoor events. All individuals on campus will be permitted to eat in designated food service areas, and students living in residence halls will not be required to wear a mask in their living space. In addition, vaccinated employees with individual offices are not required to wear a mask in their personal office. In accordance with CDC guidance, all individuals must wear a face mask while using public transportation.
Students, faculty, staff members and visitors should plan to wear masks indoors on campus until the current COVID-19 surge subsides; the University will provide an update when masking is no longer required.
"We are taking this proactive step as one critical measure to support the well-being of our community, along with initiatives like the comprehensive testing strategy for students and employees we announced yesterday," said Kelly Wolgast, director of the COVID-19 Operations Control Center. "We continue to stress the importance for all students, faculty and staff to get vaccinated for COVID-19 as soon as possible. Vaccination remains the best way to protect yourself from serious illness leading to hospitalization and death."
All Penn State students and employees are strongly encouraged to get vaccinated and share their vaccination status with the University. Despite the COVID-19 surge as the Delta variant spreads, studies suggest that the currently available vaccines are effective in preventing serious illness in those exposed to the variant. Penn State is not impartial when it comes to getting vaccinated. The University's stance is that everyone who can get a vaccine should do so as soon as possible to attain very high vaccination rates on all Penn State campuses.
Students and employees who have not informed the University that they have been fully vaccinated by Aug. 9 will be subject to required testing during the fall semester. Students at University Park, Commonwealth Campuses and Dickinson Law can upload their vaccination records through myUHS, and employees and World Campus students can do so through Salesforce Health Cloud.
Students who are not yet vaccinated are strongly encouraged to begin the process as soon as possible before arrival at their campus for the fall semester. Students may begin the vaccination process at home by receiving their first dose and bring their vaccination card to their campus, where they can receive their second dose of the Moderna or Pfizer-BioNTech vaccines from a provider on or close by campus.
In addition, since yesterday's Town Hall conversation the University has compiled answers to frequently asked questions, including on the testing strategy for students and employees. For more information, visit the University's Virus Information website.